A Guide to the Gorgeous Trollaskagi Peninsula, North Iceland
Have you heard of the Tröllaskagi Peninsula? This mountainous peninsula in North Iceland is perhaps the most beautiful detour from the Ring Road.
Tröllaskagi, which is Icelandic for Troll Peninsula, has long been a popular destination for Icelanders. But in the last few years, it's become quite a treasure for travelers in the know.
Tröllaskagi was super-high on my list of priorities for my Iceland road trip. And I absolutely LOVED it here.
So why should you come to Tröllaskagi?
For starters, this part of Iceland is off the beaten path — you won't even find crowds in high season.
Secondly, the scenery is utterly spellbinding. Tröllaskagi is home to Iceland's tallest mountains outside the Highlands, tall and jagged and swooping over each other, forming deep valleys dotted with brightly colored cottages. It's a scenic drive for the ages.
Finally, this peninsula is full of interesting gems. An incredible museum. A spectacularly set swimming pool. The oldest church in Iceland. Basalt columns. And gorgeous small towns with brightly painted cottages set against the snow-capped mountains.
Visiting Tröllaskagi isn't challenging — the roads are paved and it only adds about an extra hour and a half of driving time.
So resist your dogmatic urge to stay on the Ring Road — and come detour around the Tröllaskagi Peninsula. You're going to love it here.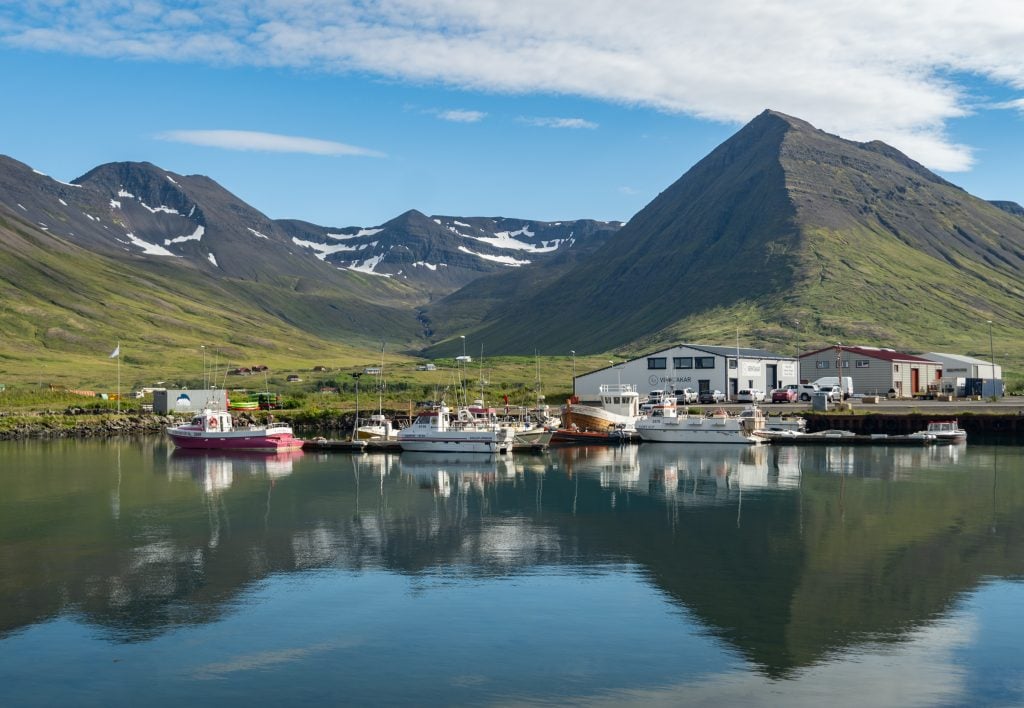 Where is Tröllaskagi?
The Tröllaskagi Peninsula is one of the central peninsulas extending from Northern Iceland. It's surrounded by a deep fjord on each side: Skagafjörður to the west and Eyjafjörður to the east. See the map above for the sites I mention.
The main roads on this route are Route 76, running from Varmalið to Ólafsfjörður, and Route 82, running from Ólafsfjörður to Akureyri.
The city of Akureyri, sometimes called the capital of the North, is in the southeast corner of the peninsula. Akureyri is almost always a stop for Iceland Ring Road travelers, which makes Tröllaskagi an easy detour to add.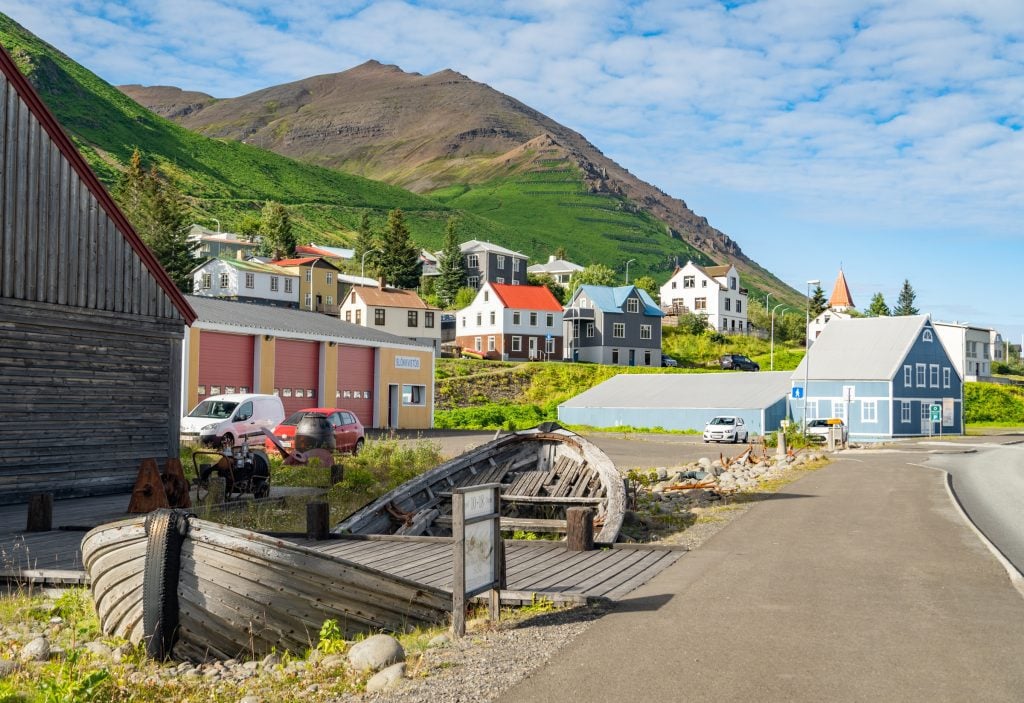 Adding Tröllaskagi to an Iceland Ring Road Itinerary
If you are following the Ring Road exactly, you will drive straight from Varmalið to Akureyri (or vice versa) and miss Tröllaskagi in its entirety. Driving Route One straight between these two towns will take you about 70 minutes.
And you know what? There's almost nothing to see on that drive. It's Iceland, so of course it's beautiful, but expect lots of endless green hills and not much else.
BUT — if you head northward from either Varmalið or Akureyri via Siglufjörður, the drive will take you about two hours and 40 minutes. And it will include some of the most dramatic scenery you've seen in the country.
Some people drive from Akureyri to the Snaefellsnes Peninsula or even Reykjavík (eek!) in a single day. I do NOT recommend that; it's a LONG day with way too much driving. Instead, overnight in Blönduós, a town in North Iceland with several accommodation options.
What to See in Tröllaskagi
I am including the list of places to see in order, from Sauðárkrókur to Akureyri, as that's the order in which I visited them (and my Ring Road guides on this site are all clockwise).
But you're absolutely welcome to drive the peninsula in either direction.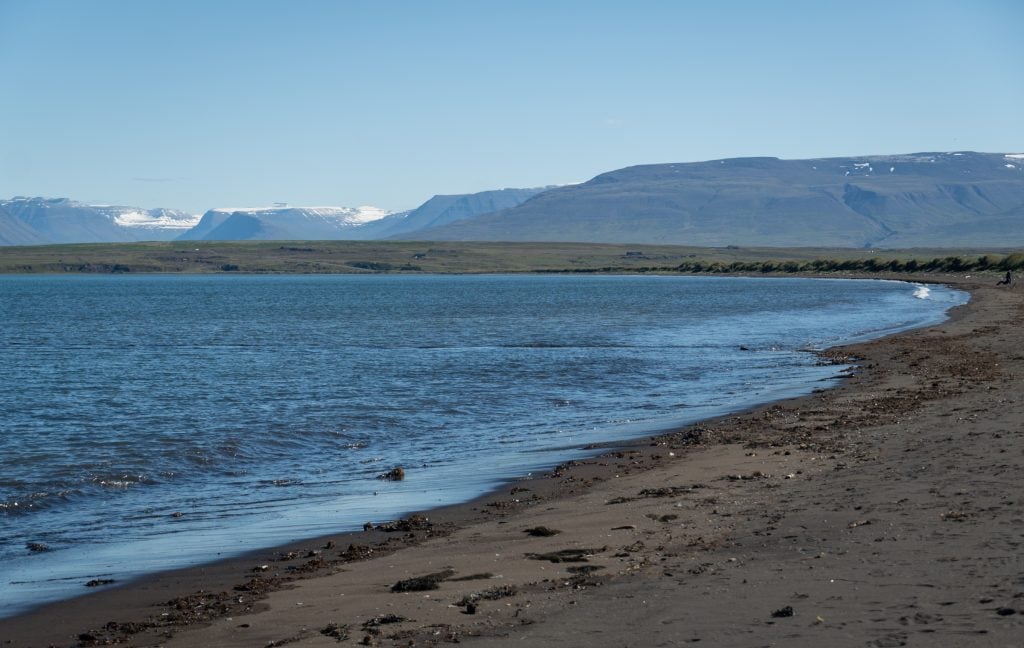 Black Beach of Sauðárkrókur
Sauðárkrókur isn't usually a stop on an Iceland road trip, but it does have a lovely black beach with views of the mountains. Love Iceland's black beaches? This one has substantially fewer people than Reynisfjara!
Sauðárkrókur is also where you can get tours to Drangey Island, a nature haven filled with puffins and other interested wildlife. Tours take 3.5-4 hours, so I don't recommend this unless you're spending a few days in Tröllaskagi.
And if you need something to eat, Sauðárkrókur has a large N1 gas station with a decent food selection. (This was a big deal after our long, desolate drive through rural West Iceland the day before.) We enjoyed our fast food and Collab sodas before moving on.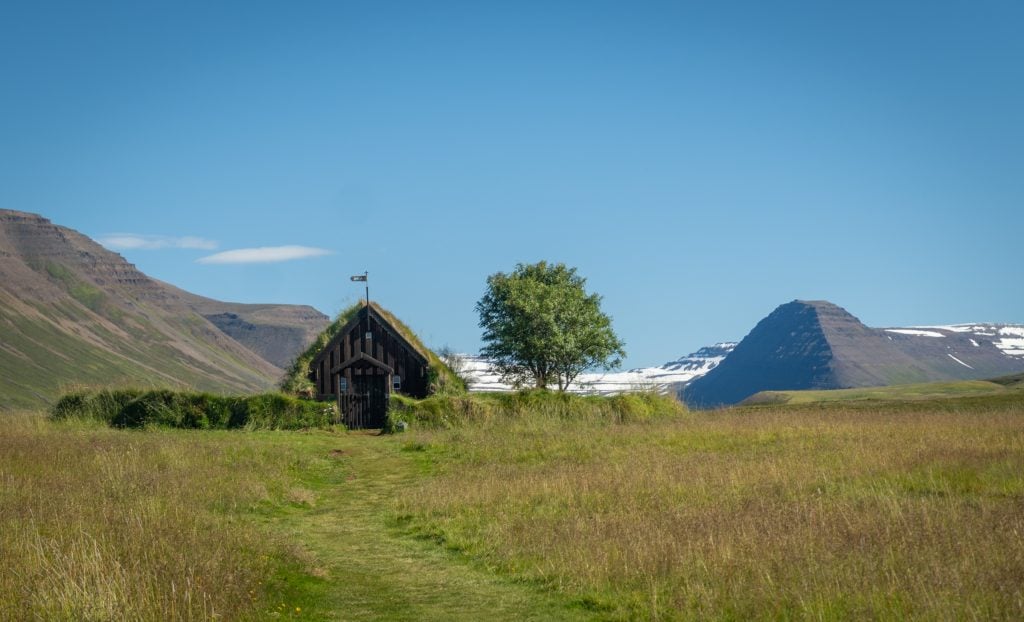 Grafarkirkja
Grafarkirkja, located on the outskirts of Hofsós, is thought to be the oldest church in Iceland! This turfed church was built in the 17th century. This is your first stop if you're driving the route clockwise.
While Iceland has several churches with turfed roofs that you can still visit today, Grafarkirkja is unique in its decor, featuring gorgeous hand-carved wooden beams inside. And its location, in front of the mountains, makes for lovely photos.
To get here, you'll need to open a gate, drive through, close the gate, park, and then walk all the way up to the house.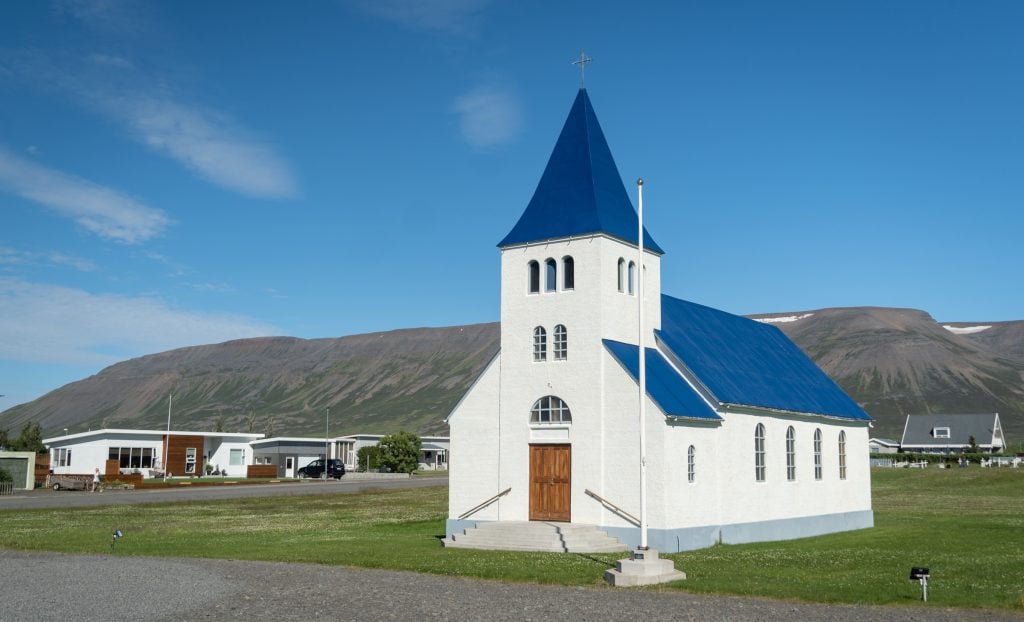 Hofsós
Hofsós is a very small town (population: 200) that was once one of the major trading centers in the north of Iceland. Today it's a calm and quiet place to visit, with gorgeous views over Skagafjörður and the islands of Drangey and Málmey.
Hofsós is also home to the Icelandic Immigration Center, which tells the stories of Icelanders who migrated to North America. The first Icelanders believed to make this migration were Thorfinnur Karlsefni and his wife Guðríður Thorbjarnardóttir, who migrated from Hofsós to Vinland (now Newfoundland).
Hofsós has a campground and is worth a quick walk around — but what really makes Hofsós special is its swimming pool.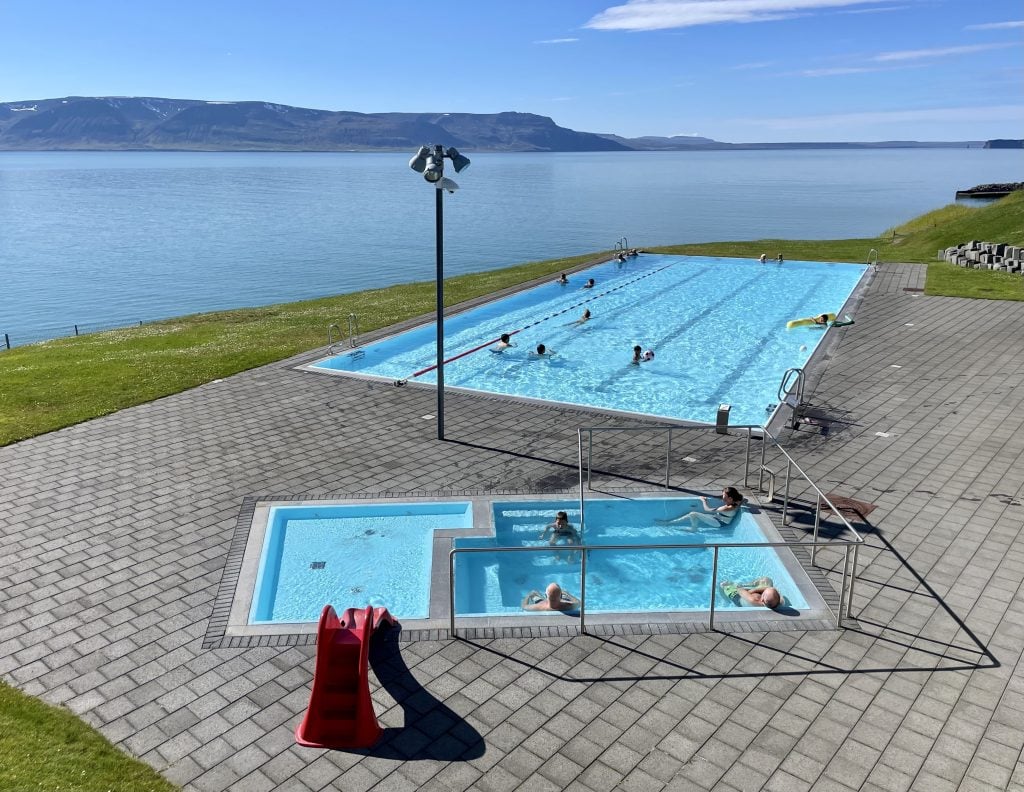 Hofsós Swimming Pool
This swimming pool put Hofsós on the tourism map! Hofsós Sundlaug is the most spectacularly set swimming pool in all of Iceland, on the edge of a cliff overlooking Skagafjörður. While technically not an infinity pool, it feels like one — and you can't beat those views.
The pool is a bit on the cooler side by Icelandic standards, but there's a smaller hot tub if you want to soak. Though a tiny bit pricey for Icelandic pools, it's a bargain compared to the Blue Lagoon or any other geothermal spa.
Admission to Hofsós Sundlaug is 1,090 ISK for adults and 325 ISK for children 6-18, and free for children under 6. The pool is open all day during summer hours (usually June 1-August 28), with midday closings during the winter. More info on their website here.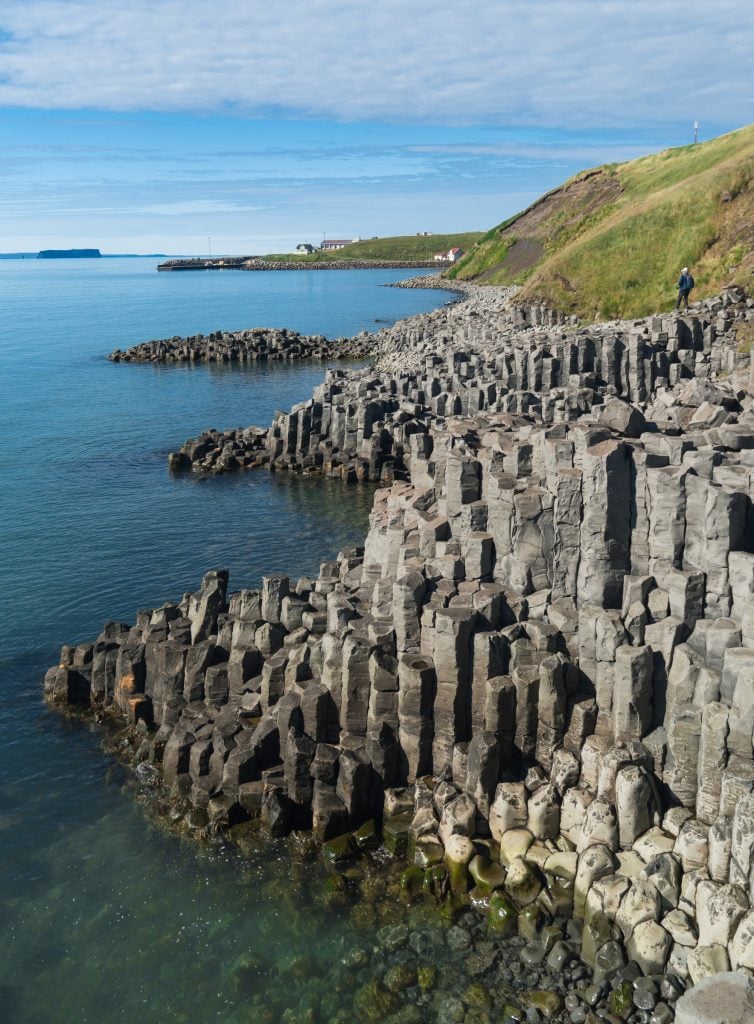 Staðarbjörg Basalt Columns
Right next to the swimming pool in Hofsós are the Staðarbjörg Basalt Columns — a gorgeous edge along the fjord. Here you can find rows and rows of tall, elegant basalt columns, similar to the ones you see in Stuðlagil Canyon in East Iceland.
There are hiking paths that lead further down past the columns for more beautiful views of the fjord. On a clear day, there's no better view in Hofsós.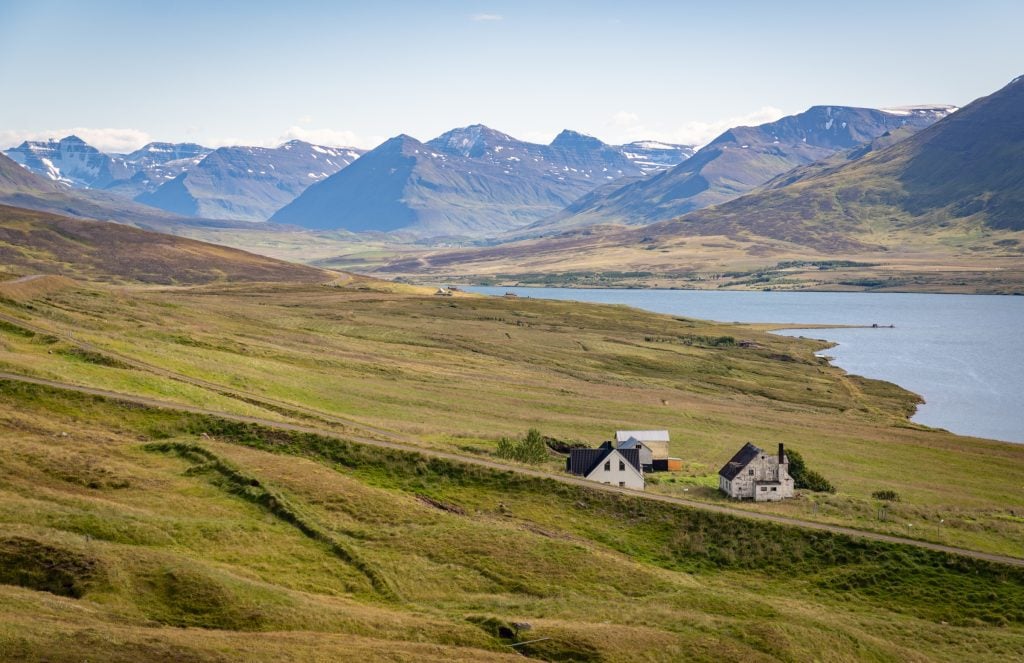 Viewpoints
The best viewpoints we saw on our trip were between Hofsós and Siglufjörður. This is the most visually striking stretch of Road 76 by far! There is one little stop with a picnic table overlooking the deep valley between the mountains.
As always, only pull over when there is ample room to do so. Stopping randomly in the middle of these narrow streets can be dangerous to the people around you.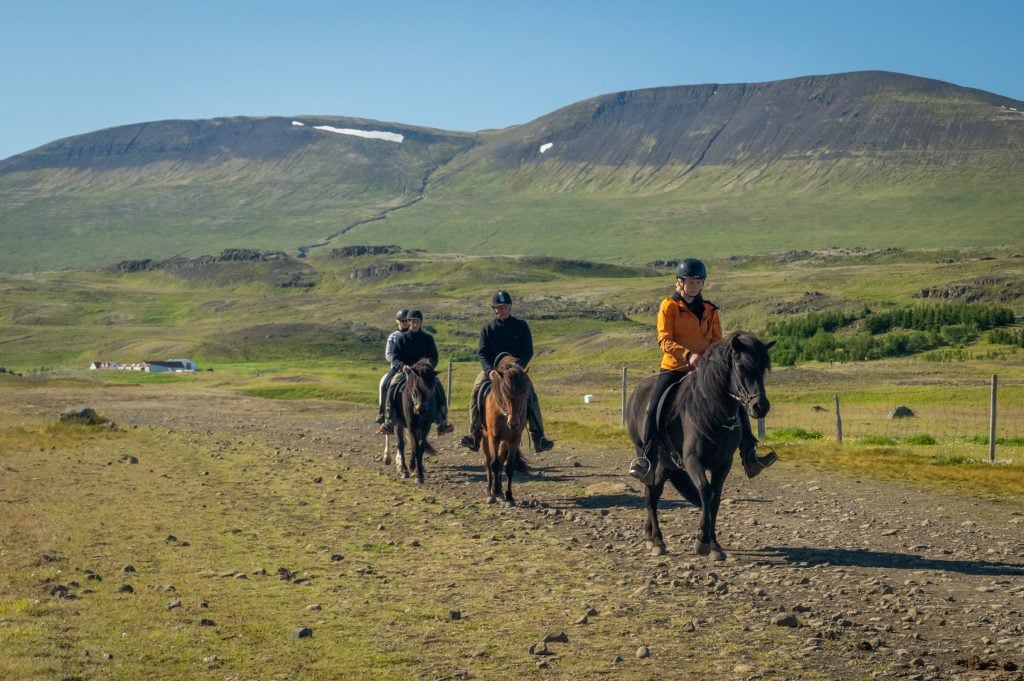 Langhús Farm
There are a few places for horseback riding in Tröllaskagi — and Langhús Farm is in an easily accessible part of the Troll Peninsula, right between Hofsós and Siglufjörður.
Langhús offers a variety of horse riding tours, including Viking rides through the mountains, rides along black sand beaches, and some longer combination options.
If you're interested in horses, you absolutely must go horseback riding in Iceland. Icelandic horses are genetically unique and have a special gait. Plus they're short, furry and so sweet! And you can't beat the landscapes.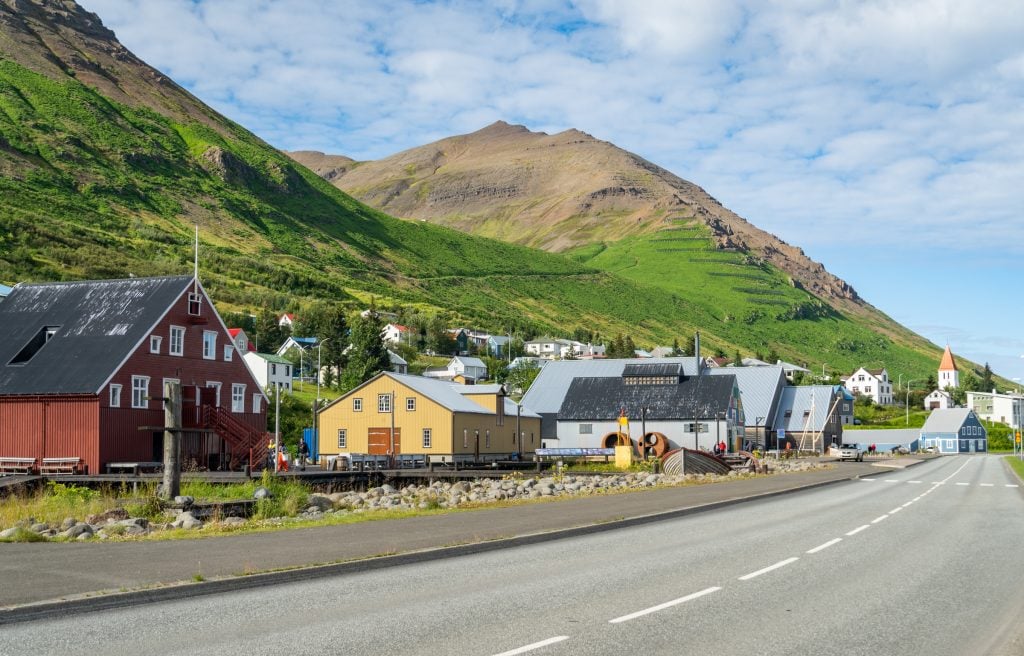 Siglufjörður
Once you get to Siglufjörður, you'll be enchanted. Siglufjörður is the gem of Tröllaskagi — a timeless, impossibly beautiful town, filled with bright colors and set in a stunning fjord, snuggled in by mountains.
Just walking around Siglufjörður and admiring the colorful buildings is a nice way to spend an afternoon. But you must visit the Herring Era Museum, easily one of the best museums in Iceland. More on that below.
Also in town are Þjóðlagasetur, also known as the Folk Music Centre, where you get free admission with a Herring Era Museum ticket; and the Saga Fotographica Museum, focusing on the history of photography in Iceland.
If you've got time, don't miss the Seagull 67 brewery and the many cute restaurants and cafes that dot the small town. No matter where you go, you won't be able to stop taking photos! The popular Icelandic TV series Trapped (Ófærð) was filmed in Siglufjörður, and it's worth watching before your trip.
Siglufjörður has the most tourist activity in Tröllaskagi, and if you want to overnight on the peninsula, I recommend you do so here. There are plenty of accommodation options at different price points.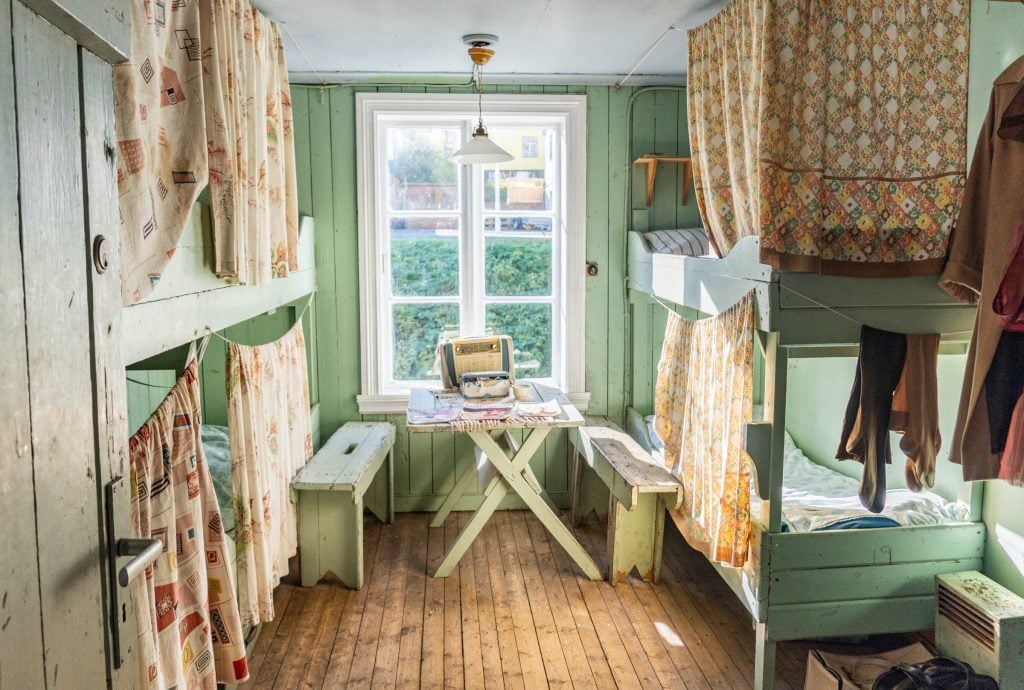 Herring Era Museum
Yes, the Herring Era Museum gets its own listing because it's just that extraordinary. I love museums that focus hardcore on one unusual topic, and that's the Herring Museum in a nutshell.
Siglufjörður was the center of the Icelandic fishing industry in the 1940s and 1950s, and it's no exaggeration that this business ran the whole town. Herring fishing declined sharply in the early 1970s and it is no longer fished here.
The museum has three buildings. The first building is a re-creation of a fishing dock, with original boats and captains' quarters. The second is a re-creation of a fish meal and oil processing factory with all original equipment.
And the third, my favorite, was a look into how the people lived. Rooms where "herring girls" slept in bunk beds, their dresses hanging up, books and music and a kitchen with cooking supplies from decades past. The best kind of history museum.
The Herring Era Museum is open June through August, 10:00 AM-6:00 PM; May and September, 1:00-5:00 PM; and October through April by appointment only. Admission is 2200 ISK ($15 USD) for adults and 1200 ISK ($8 USD) for seniors.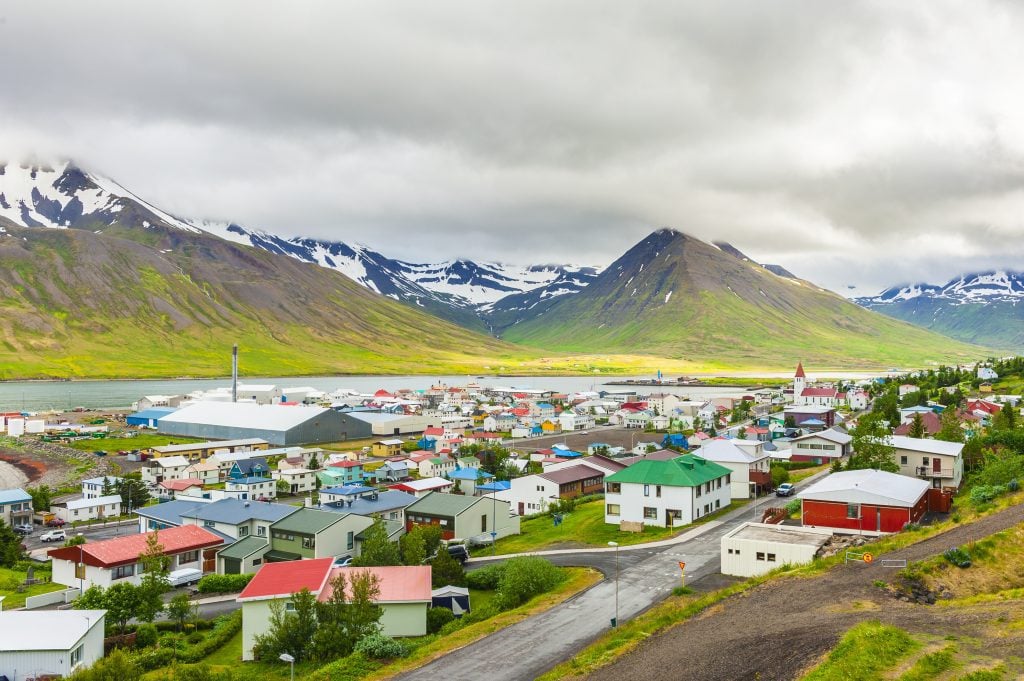 Ólafsfjörður
Just south of Siglu is Ólafsfjörður — another lovely seaside town. You may end up waiting quite a while to enter the one-lane tunnel, as we did. But if you have the time, it's at least worth a short stroll or photo shoot!
Fairytale at Sea offers two-hour jetski tours around Ólafsfjörður, including stops in front of gorgeous waterfalls you can only see from the water. If you're really lucky, you might spot some minke whales! Amazing Mountains offers snowmobiling, hiking, and camping tours.
Mígandifoss is a waterfall just south of town that's worth a quick visit. You'll have to park on the side of the road and climb over the grass on foot.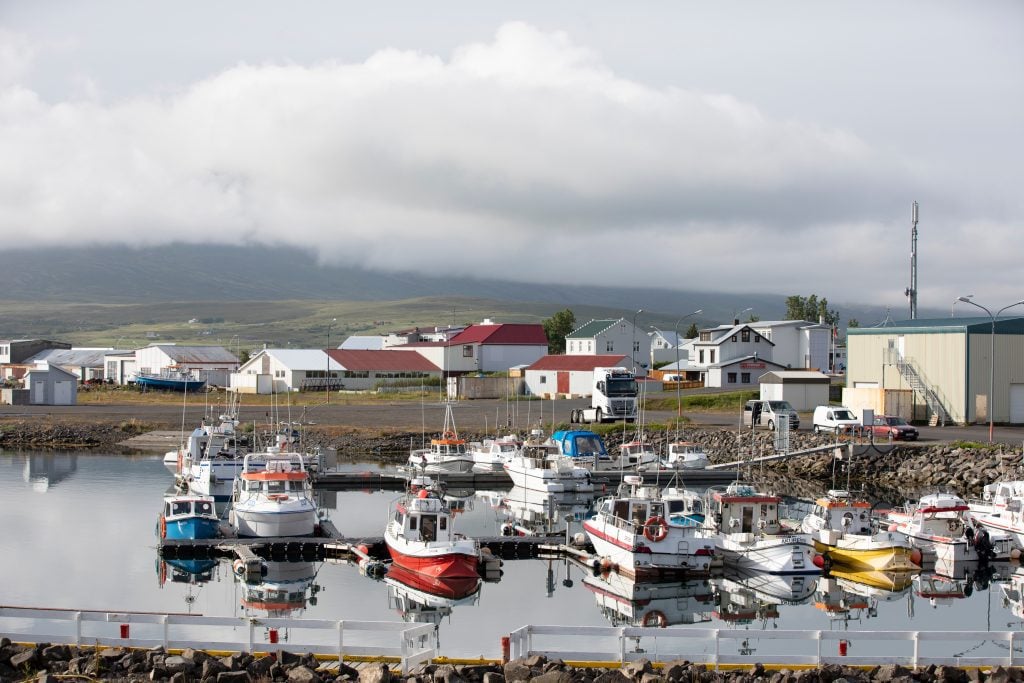 Dalvík
Dalvík isn't quite as pretty as Hofsós, Siglufjörður or Ólafsfjörður — but this is the largest town in the area and it makes a decent stopover.
Many whale watching tours leave from Dalvík, including Arctic Sea Tours. I recommend whale watching in Húsavík if you can, but if not, this is a nice option (with much better whale-sighting odds than Reykjavík).
Dalvík is also where ferries depart to Hrísey island (30 minutes each way) and Grímsey Island (three hours each way). You can book ferries via Saefari.
Hrísey is a quirky little island with colorful cottages, a museum, and outstanding bird life.
Grímsey is the only place in Iceland that lies north of the Arctic Circle, and attracts a lot of bucket list travelers for that reason. But you should know that the Arctic Circle is actually pretty far from the port, so if you want to go above the Arctic Circle, your best bet is planning an overnight trip.
View this post on Instagram
Bjórböðin Beer Spa
How would you like to spend the day soaking in a hot tub, beer in hand? Or even better — soaking in a bath of beer itself? Bjórböðin Beer Spa is the place for you! This spa and restaurant is located in Árskógssandur, just south of Dalvik.
Here they serve beer from the nearby Kaldi brewery, just down the road. You can take an indoor bath in beer, water, and herbs, where you can pour yourself beer to drink right from the tap. Alternatively, soak in one of the two hot tubs outside, overlooking the fjords.
The restaurant dishes up pub grub like burger, pizza, bacon fries, and fried cauliflower. They also have plenty of wine and soft drinks if you're not a beer drinker.
I live in Prague, a city where beer spas are both cheap and abundant, so I skipped this one. But if you're intrigued, go for it!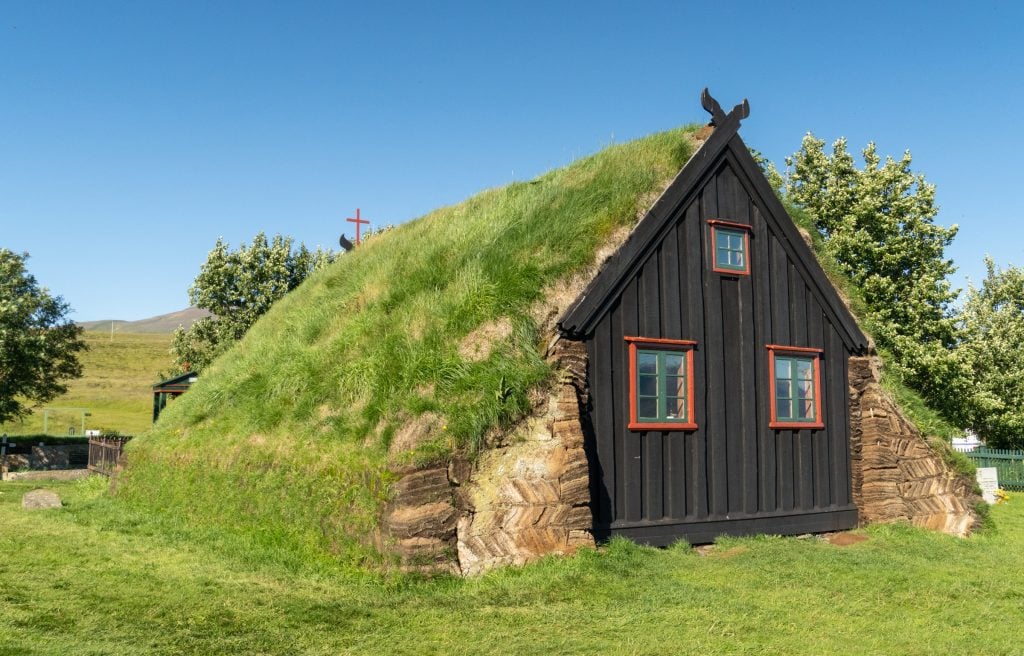 Places to Visit Between Blönduós and Tröllaskagi
If you're driving Tröllaskagi in a single day, it's wise to start or end in Blönduós. The drive between Blönduós and Tröllaskagi is stretch of pretty but boring green landscapes — but there are a few places worth exploring in the Varmalið area.
Glaumbaer Museum — This museum shows how Icelanders lived centuries ago in their turf houses, and succeeded despite the elements.
Church in Víðimýri — Another of Iceland's grass-roofed churches, and this one is definitely worth a visit.
Reykjafoss is a cool waterfall to begin with — but it also has a natural hot pot, called Fosslaug, on the edge of the waterfall! A very cool spot for a soak.
(Make sure you get directions to the Reykjafoss parking lot on Google Maps, not the waterfall itself — otherwise it will send you in the wrong direction.)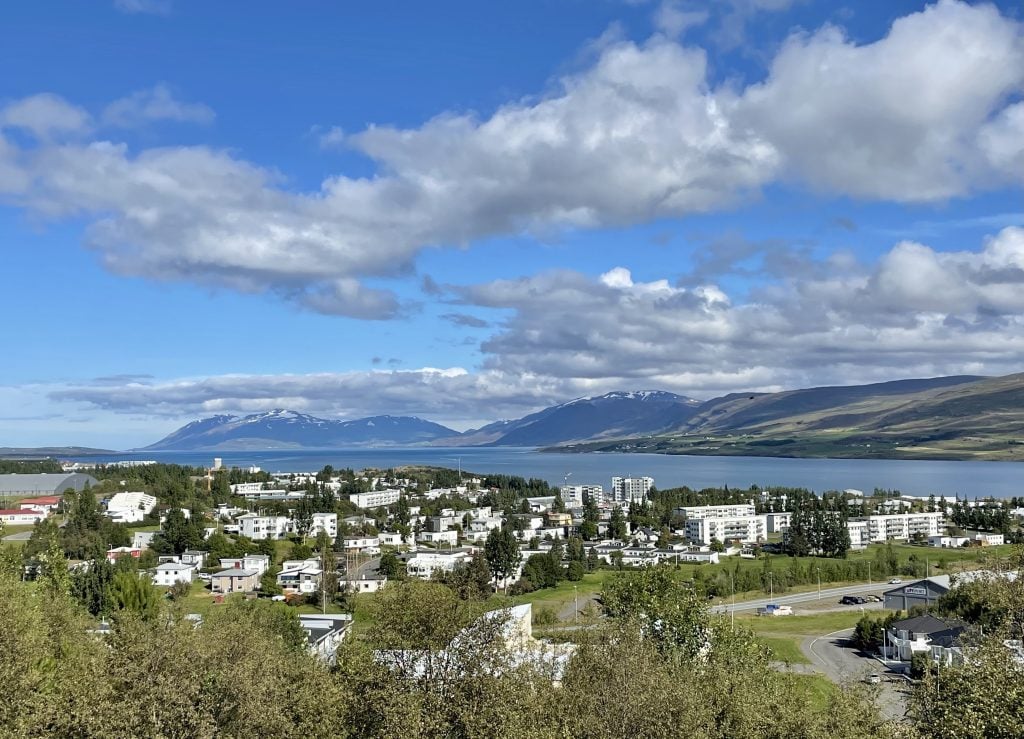 Places to Visit in Akureyri
Amanda and I spent three nights in Akureyri, which was one of the best decisions of our trip. It gave us a much-needed breather after changing accommodation each night, and there's quite a bit
In Akureyri you can visit the Forest Lagoon Geothermal Spa, the Akureyri Botanical Gardens, and there are some bars, restaurants and shopping. Just outside town is the Akureyri Christmas House, bringing holiday cheer year-round!
And the town of Húsavík is a perfect day trip from Akureyri! Just one hour away, it has the best whale watching in Iceland (seriously, FAR better than Reykjavík), horseback riding on a black sand beach, and Jaja Ding Dong Bar, complete with a mini Eurovision Museum inside it!
You can also visit Goðafoss, a powerful waterfall right off the Ring Road.
Tips for Driving the Tröllaskagi Peninsula
Is Tröllaskagi a terrifying place to drive? I wouldn't go quite that far, but I don't recommend Tröllaskagi for anxious drivers or people with a fear of heights. There are almost no guardrails, and the area west of Siglufjörður is especially twisty with steep drop-offs.
Tröllaskagi has two one-way tunnels — a shorter one near Siglufjörður and a longer one near Ólafsfjörður. These tunnels are free to drive through, but follow the traffic lights and only enter the tunnel when they're green.
Amanda was driving in the shorter tunnel and we had the right of way, but several tourists had mistakenly driven through and wouldn't pull into the pull-outs. Amanda expertly backed up the car through the tunnel but that never should have happened.
You don't need a 4×4 to drive the Tröllaskagi Peninsula. The roads are paved and in decent condition. Our sedan made the trip just fine.
While there are no traffic cops in Iceland, there are many speed cameras. Follow the speed limit (90 km/hour on paved roads unless otherwise posted) or you could get a surprise ticket from your rental company.
You should also keep an eye out for rogue sheep on the roads. They're everywhere!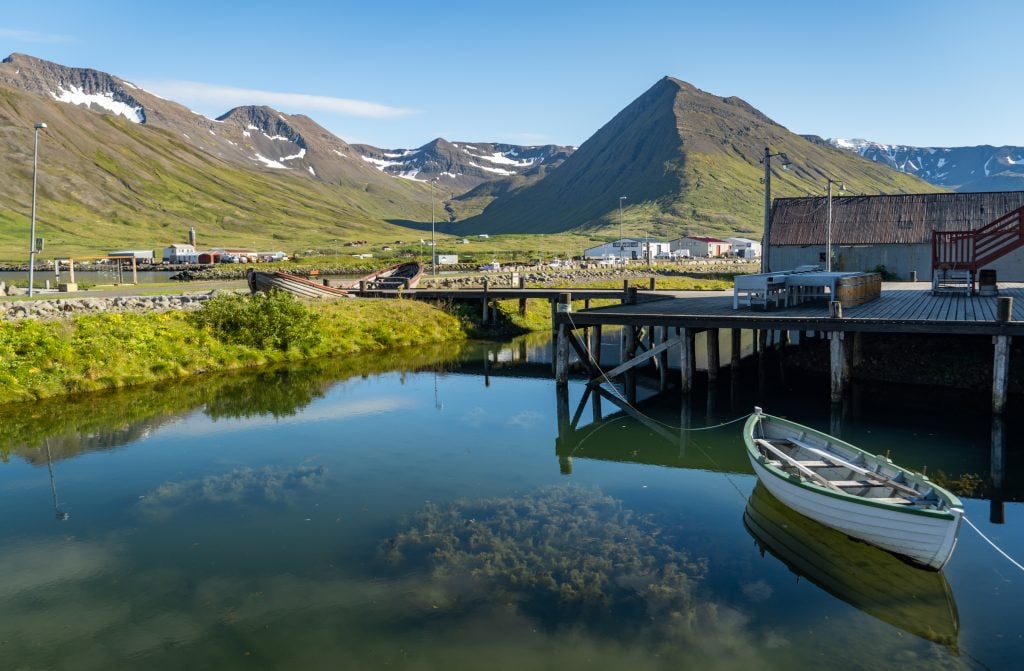 Best Time to Visit Tröllaskagi
The best time to visit the Tröllaskagi Peninsula is between June 1 and August 28. Yes, those dates are precise, and it's for a reason: those are the dates that the Hofsós Swimming Pool and Herring Era Museum are open all day.
If you go slightly outside that season, both places have much shorter hours, and the Herring Era Museum does visits by arrangement only, which can make it tough for you to visit everything cool in Tröllaskagi in a single day.
(Originally I was planning a May 31 trip, and it was stressing me out that I would have to leave SO early to be able to visit both the Herring Era Museum and the Hofsós Swimming Pool. That trip was rescheduled to mid-August, and I didn't have to worry about missing anything.)
The summer months also bring the warmest weather and longest days, especially in June and July, which can help you see a lot more in a single day.
Tröllaskagi is a popular place for Icelanders in the winter, as it's home to some of the country's top ski resorts! Boggvisstadafjall, near Dalvík, is a perennial favorite. Winter sports and Northern Lights are other top draws in the colder months. Just be careful of winter driving on those curvy mountain roads.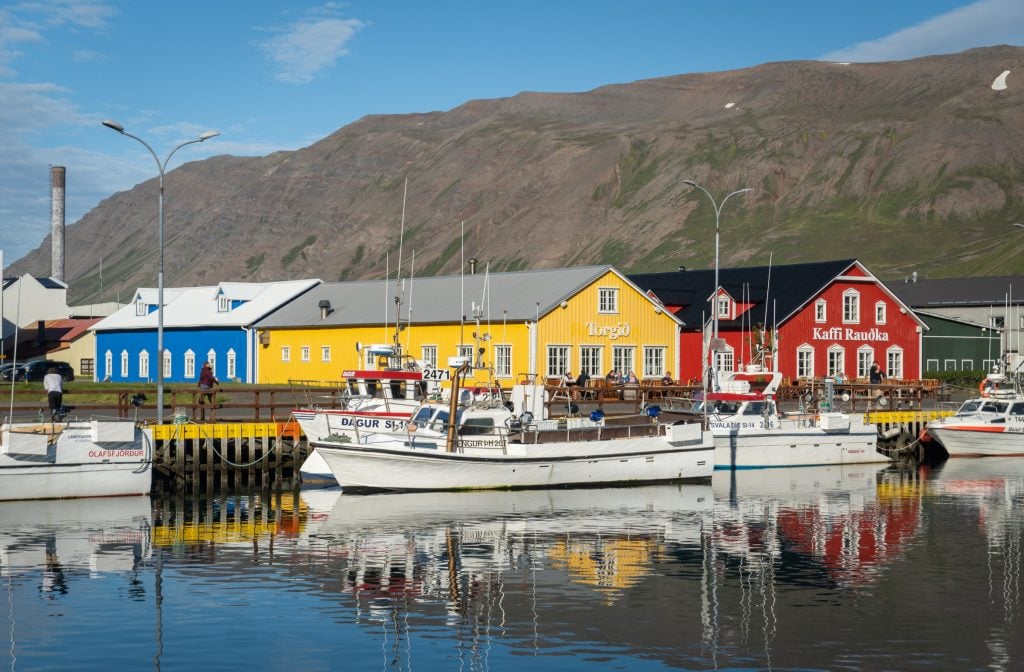 Where to Stay in Tröllaskagi
Do you need to stay overnight on the Tröllaskagi Peninsula? You don't have to, and we didn't on our trip. But if you do decide to stay overnight, I recommend staying in Siglufjörður. This charming town is the ideal place to stay, and I would have loved the chance to explore it more.
Where to Stay in Siglufjördur
Siglo Hotel is my first choice of where to stay. What a nice hotel! I looked on with envy at the guests enjoying their steaming hot pools with a view of the harbor!
Soffia's House is the closest thing to budget accommodation in Siglufjördur — a cute guesthouse run by friendly locals, with shared bathrooms, a kitchen, and a living room for all guests.
Find deals on places to stay in Siglufjördur here.
Where to Stay in Blönduós
Hvammur 2 Guesthouse, a farm on the outskirts of Blönduós, is where we stayed. It was a lovely throwback to what guesthouses used to be like before social media! Rooms were clean with shared bathrooms, there was a big kitchen and a lounge with a TV where people were hanging out. And a cute kitten who looked just like my Murray.
Funniest of all, we were never checked in — we just got an email telling us our room number, that the keys were in the door, and to have fun!
Hotel Húni is also outside town in the countryside, with a swimming pool and breakfast included.
Find deals on places to stay in Blönduós here.
Where to Stay in Akureyri
IG Akureyri – Guesthouse Akureyri is a quality budget option, with simple guesthouse rooms. It's right on the pedestrian street in the heart of Akureyri.
K16 Apartments is a top-rated option if you have a bit more to spend. These apartments are central and have all the amenities you need for a few days' stay. We stayed in an apartment (not this one) in Akureyri and it was so nice having a kitchen and living room for a few days.
Find deals on places to stay in Akureyri here.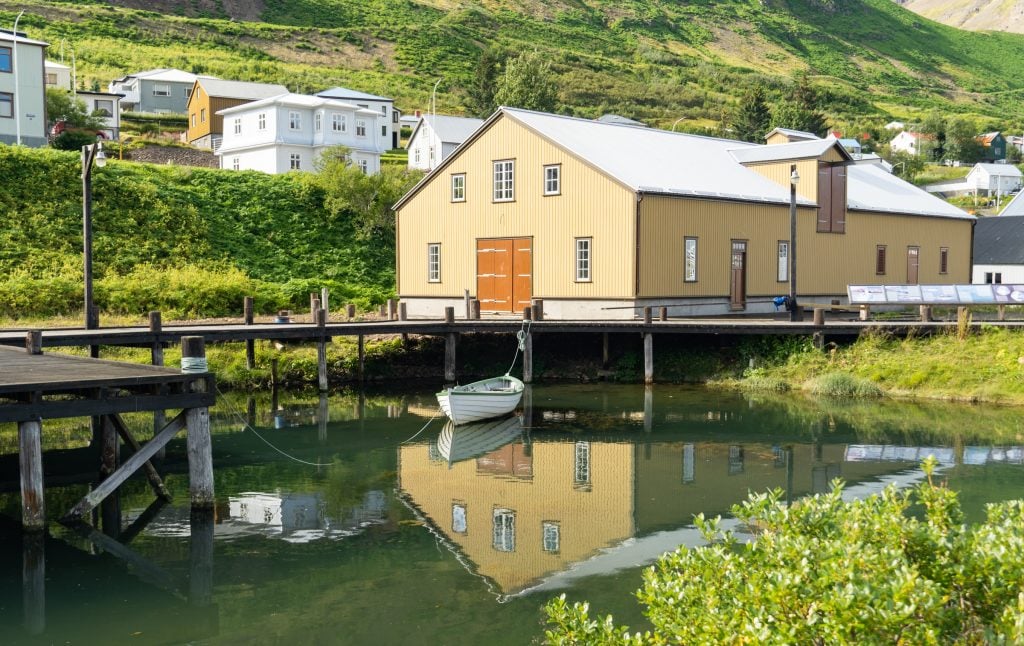 Is Tröllaskagi Worth It?
I absolutely loved my day in Tröllaskagi and wish I'd had extra days to explore! This was SO much better than simply driving straight through to Akureyri.
When I think of my memories of Iceland, this picturesque coastline route is seared in my memory forever. Easily one of the best places I've visited in the country.
Do I want to go back? YES. And this time I'll stay overnight in Siglufjördur and do the jet ski tour with Fairytale at Sea. Or maybe even come back in winter for snowier views.
Tröllaskagi is so worth visiting. I hope it's just as magical for you.
More on Iceland:
My Actual Iceland Trip Cost: Detailed Budget Breakdown
35 Awesome Things to do in Reykjavík, Iceland
Why Iceland is Great for First-Time Solo Female Travelers
My Favorite Places in Iceland:
Kvernufoss, My Favorite Waterfall in Iceland
Studlagil Canyon, East Iceland's Spectacular Wonder
Why the Vök Baths are My Favorite Hot Springs in Iceland
Blue Lagoon: Does it live up to the hype?
Sky Lagoon: An Upscale Geothermal Spa Close to Reykjavík
Sail Through the Sky with FlyOver Iceland
Snorkeling Silfra: The Cold Neon Waters of Iceland
Visiting Stokksnes and Vestrahorn Mountain, Iceland
Are the Vök Baths Iceland's Best Geothermal Spa?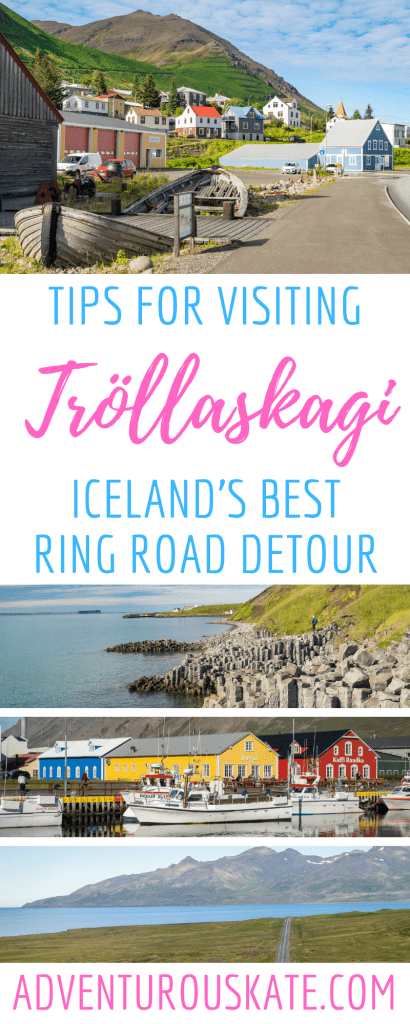 Have you been to Tröllaskagi? What else would you recommend?
The post A Guide to the Gorgeous Trollaskagi Peninsula, North Iceland appeared first on Adventurous Kate.
A Guide to the Gorgeous Trollaskagi Peninsula, North Iceland
❤Shy Paris Entertainment ||||| International Spectacular Events, Stellar Event Planning and Management, & Celebrity Booking Agency. Please contact us as we can provide you with both international and/or local renowned full service event planning and management, & celebrity bookings at shyparisentertainment@gmail.com or
CONTACT: Email: shyparisentertainment@gmail.com
Facebook: ShyParis Youtube: @Shyparis Twitter: @Shyparisent Instagram: shyparisentertainment Whatsapp: 1-437-259-3399
✶✶✶✶✶✶✶✶✶✶✶✶✶✶✶✶✶✶✶✶✶✶✶✶✶✶✶✶✶✶✶✶✶✶✶✶✶✶✶✶✶✶✶✶✶✶✶✶✶✶
SHY PARIS ENTERTAINMENT COMPANIES
✅ ShyParisentertainment.co – https://shyparisentertainment.co
✅ Shyparisbookings.com – https://shyparisbookings.com
✅ Linkzradio.com – https://linkzradio.com
✅ Klublinks.com – https://klublinks.com
✅ Shypariswebdesign.com – https://shypariswebdesign.com
✅ ❤️ Shyparis – htttps://shyparis.com❤️