A Visitor's Guide to Vineyard Haven, Massachusetts
Vineyard Haven, Massachusetts, doesn't get as much attention as the more famous towns on Martha's Vineyard like Oak Bluffs and Edgartown. For many travelers, Vineyard Haven is simply where the ferry arrives. They get in and get out.
But if you skip Vineyard Haven, you'd be making a big mistake. This small town on Martha's Vineyard, which is technically the town of Tisbury, is a wonderful place to explore, with fabulous shops, restaurant, a museum, and more!
Beyond that, Vineyard Haven has a low-key feel and is home to a friendly year-round population.
For my first trip to Martha's Vineyard, I spent my trip based in Vineyard Haven at the Nobnocket Boutique Inn and got to learn everything wonderful about this town. Let's take a look at what makes this place special.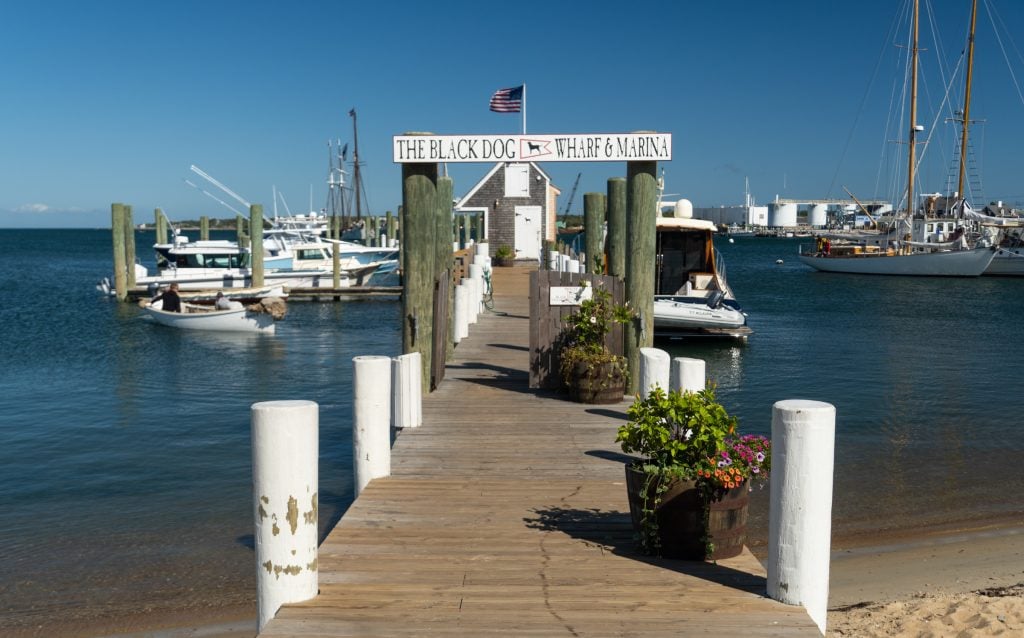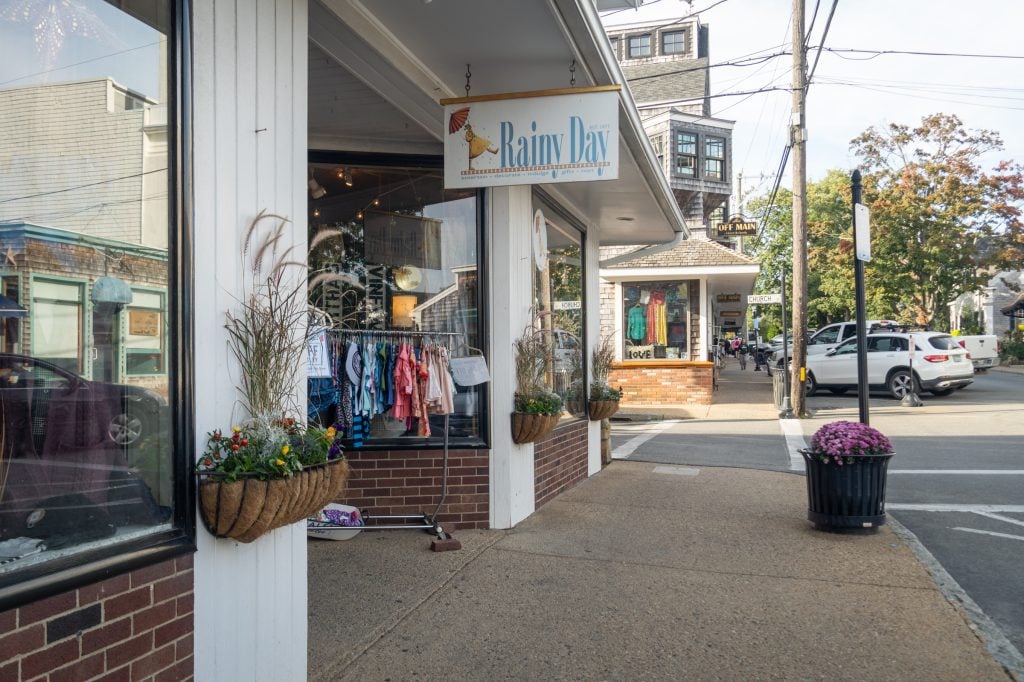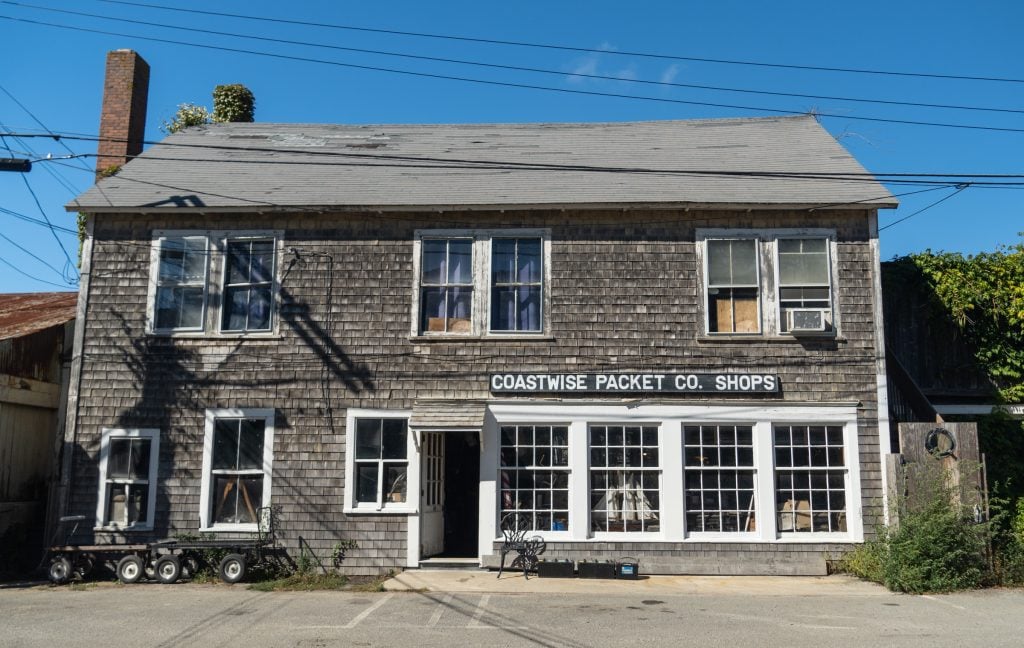 Vineyard Haven, Massachusetts
Vineyard Haven feels more lived-in than Oak Bluffs or Edgartown. This is a town with amenities that locals need year-round, not a place that caters first and foremost to tourists. If I lived in Martha's Vineyard, I would live in Vineyard Haven, easily.
Vineyard Haven is home to the Vineyard Haven Harbor Cultural District, a sustainable initiative preserving waterfront industries, like shipbuilding and fishing, as well as the cultural heritage and economic vitality of the waterfront area. As a result, this is a gorgeous, photogenic place to wander for an afternoon.
And I feel like I should mention that there are no actual vineyards in Vineyard Haven, nor are there anywhere on Martha's Vineyard! (Charlie was shocked to learn this. He thought the island was covered in them!)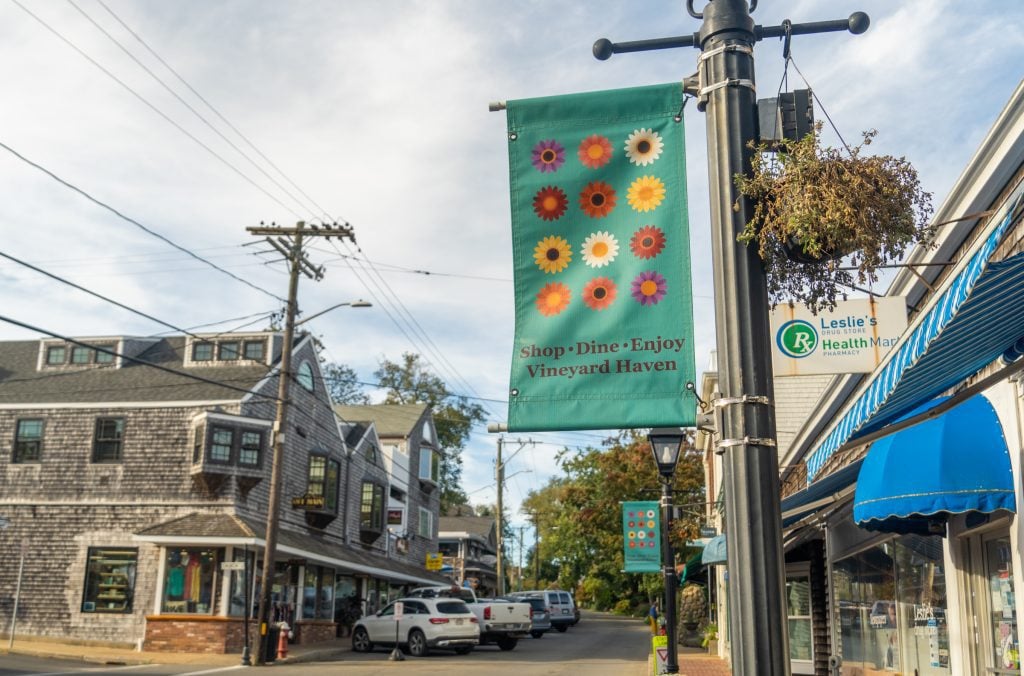 Things to Do in Vineyard Haven
There are lots of things to do in Vineyard Haven. Here are a few things to put on your itinerary:
Enjoy Downtown Vineyard Haven
Do you like old-fashioned New England downtowns where you can get everywhere you need on foot? I grew up in one of those towns, and I always enjoy wandering them on my travels. Downtown Vineyard Haven is a wonderful place for a stroll.
Here you'll find mostly local brands and an absence of chains. Be sure to check out Rainy Day, Off Main, and Beach House, each a gift shop carrying lots of clothing, jewelry, and home treasures.
Bunch of Grapes makes a lovely independent bookstore on the island, Island Music sells musical instruments, and Martha's Vineyard Made is a great spot for products made by island locals. And yes, you'll find Vineyard Vines, the popular Vineyard clothing brand that went national.
I recommend stopping at nearby Waterside Market for lunch. More on that in the restaurants section.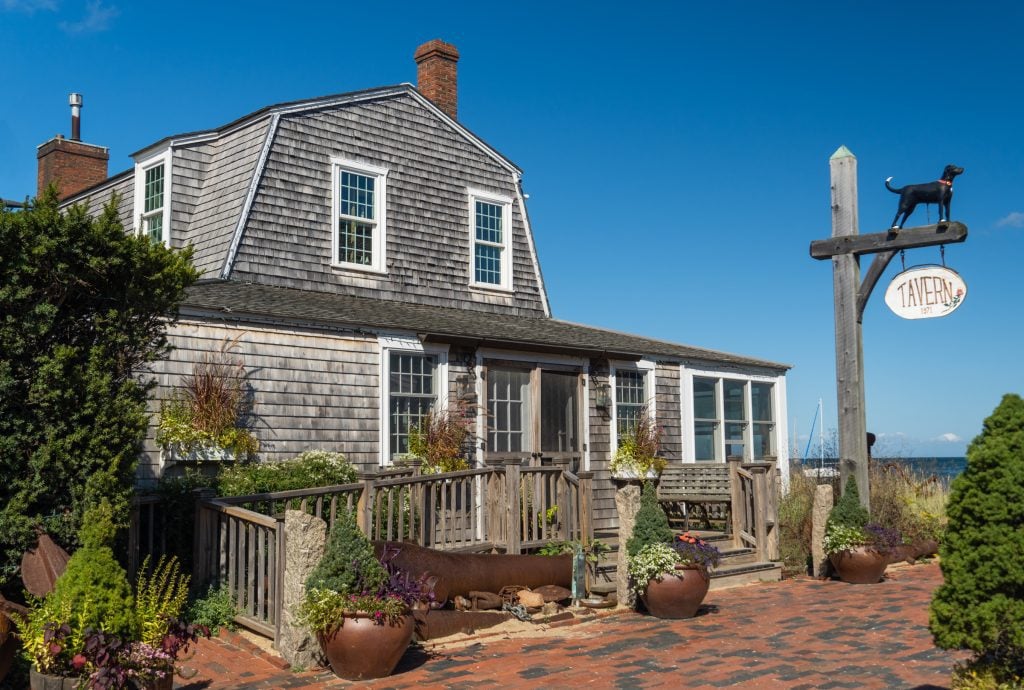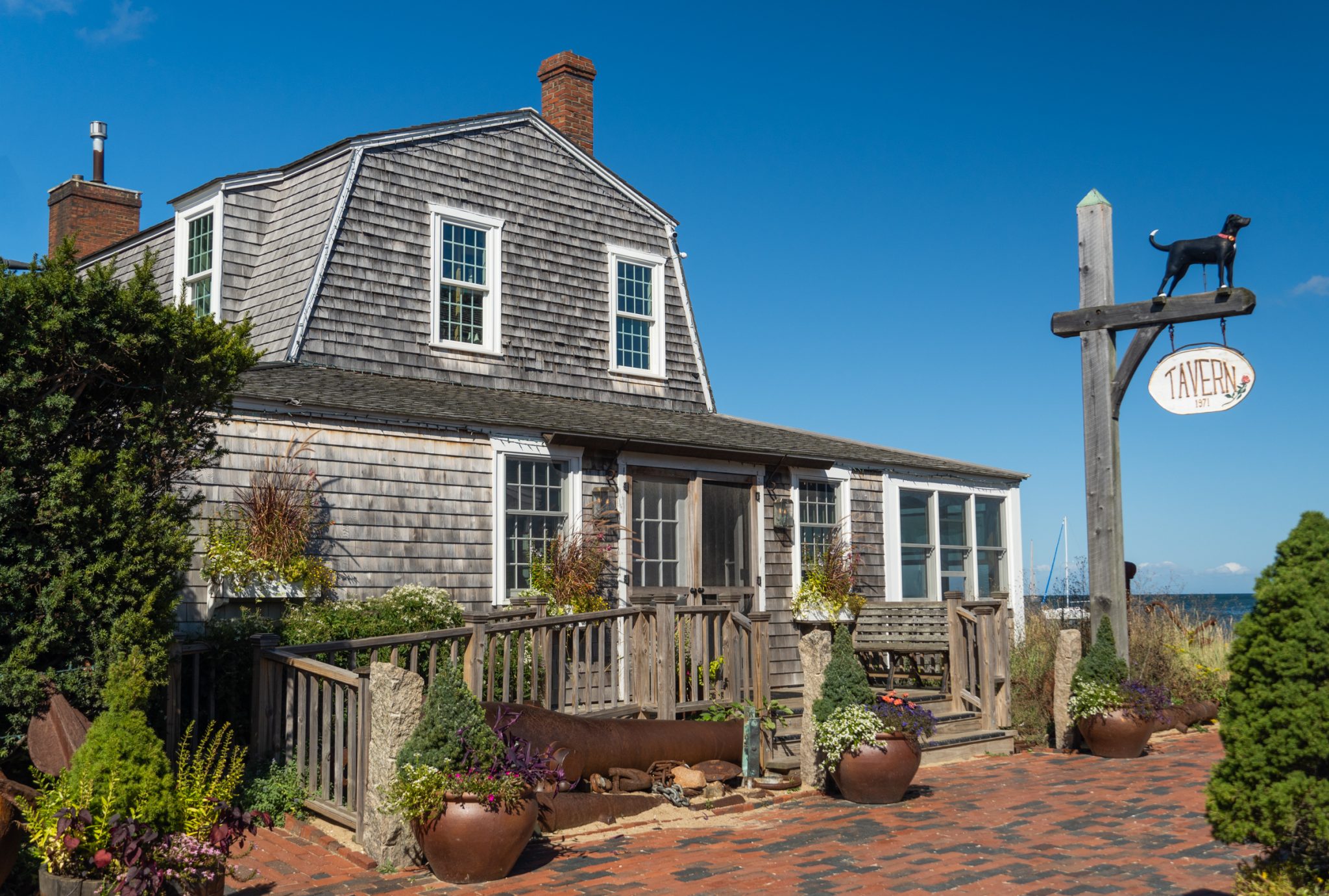 The Black Dog
The Black Dog is a symbol of Martha's Vineyard. When I was a kid in the 90s, tons of my classmates would wear Black Dog t-shirts at school — and I had no idea what they meant!
The Black Dog began as a pub in Vineyard Haven, opened by Captain Robert Douglas in 1971 and named after his beloved dog.
Today you can visit the pub at its original location in Vineyard Haven, as well as the Black Dog General Store, the Black Dog Bakery (with so many delicious cookies on display), and the Black Dog Cafe further down State Road. You can even pick up a t-shirt to take home!
The Black Dog Tall Ships also offers sailing trips on the historic schooner Alabama.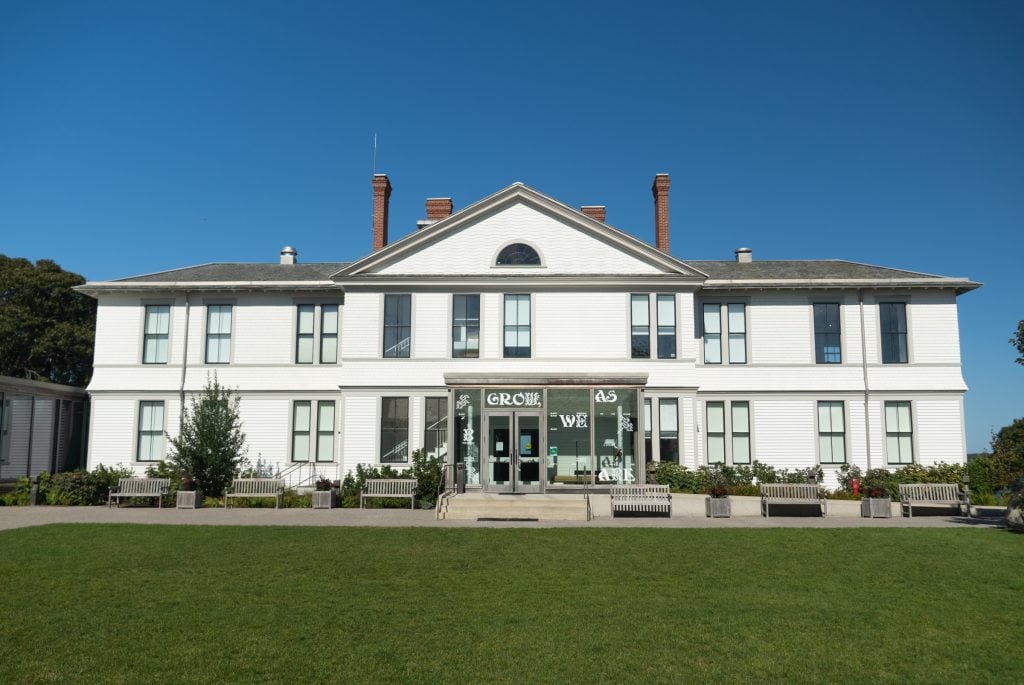 Martha's Vineyard Museum
The Martha's Vineyard Museum is a wonderful place to visit in Vineyard Haven. This museum tells the history of Martha's Vineyard since it was first formed as an island (NOT since colonization, like many other museums).
Exhibitions cover topics like the history of lighthouses, the dangers of maritime exploration, and the culture of the Indigenous Wampanoag people.
The space is also very special. Set in what used to be the Maritime Museum, you have expansive views over the harbor, and a lovely backyard with sculptures.
This museum is a great place to visit on a rainy day in Martha's Vineyard — but don't let good weather keep you away, either!
View this post on Instagram
See a Show at the Martha's Vineyard Playhouse
The Martha's Vineyard Playhouse, a professional nonprofit theater, is on Church Street in downtown Vineyard Haven and puts on a variety of events year-round. It could be a play or musical, a workshop, a concert, Monday Nights at the Movies, even a trivia night.
This theater has lots of character, and because Martha's Vineyard is such a small place, you might get a chance to mingle with the performers afterward, especially in the off-season.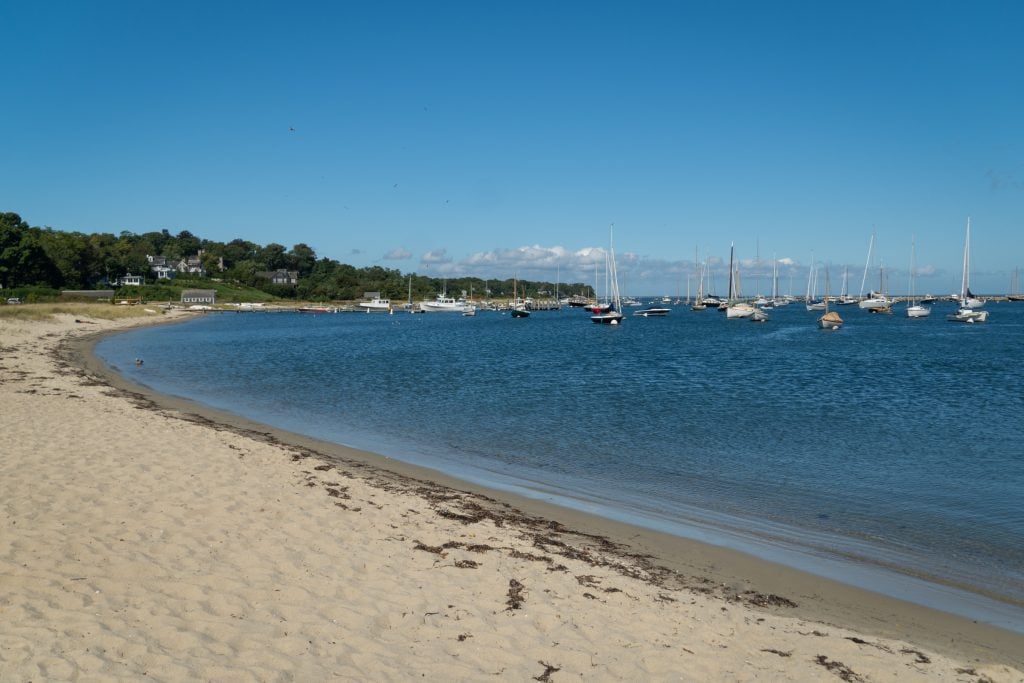 Relax on the Beach
Vineyard Haven has a few beaches to enjoy. They aren't the best beaches on Martha's Vineyard — my top picks would be Moshup Beach in Aquinnah and Wasque Point on Chappaquiddick Island — but they are nice places to relax with a book or a sandwich and watch the ferries come in.
You have Owen Park Beach and Town of Tisbury Beach close to the ferry terminal, and on the other side of town past West Chop, you have Lake Tashmoo Town Beach. The Tashmoo Lake Overlook is the best place to watch the sunset in Vineyard Haven.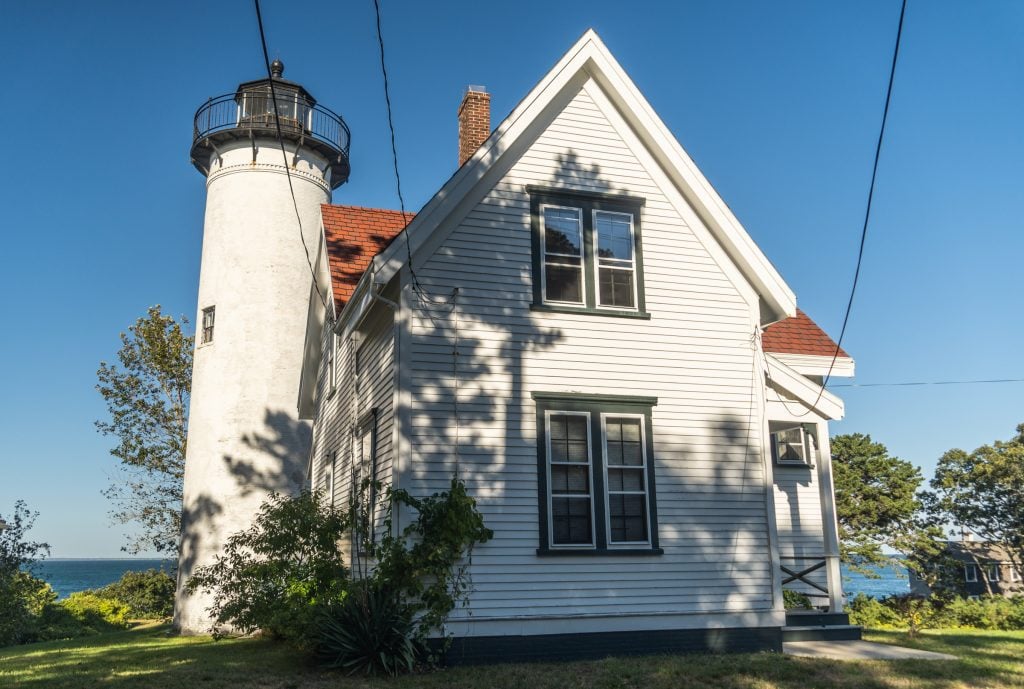 West Chop Lighthouse
You can easily go on a lighthouse crawl around Martha's Vineyard! There are five of them in total — West Chop Lighthouse, East Chop Lighthouse, Gay Head Light, Edgartown Harbor Light, and Cape Poge Lighthouse. West Chop Lighthouse is the one located in Vineyard Haven.
West Chop Lighthouse is not open to visitors, but you can take photos from the street. And if you're up for a 40-minute walk each way, the journey here from downtown Vineyard Haven will show you a lot of the town that most visitors don't see.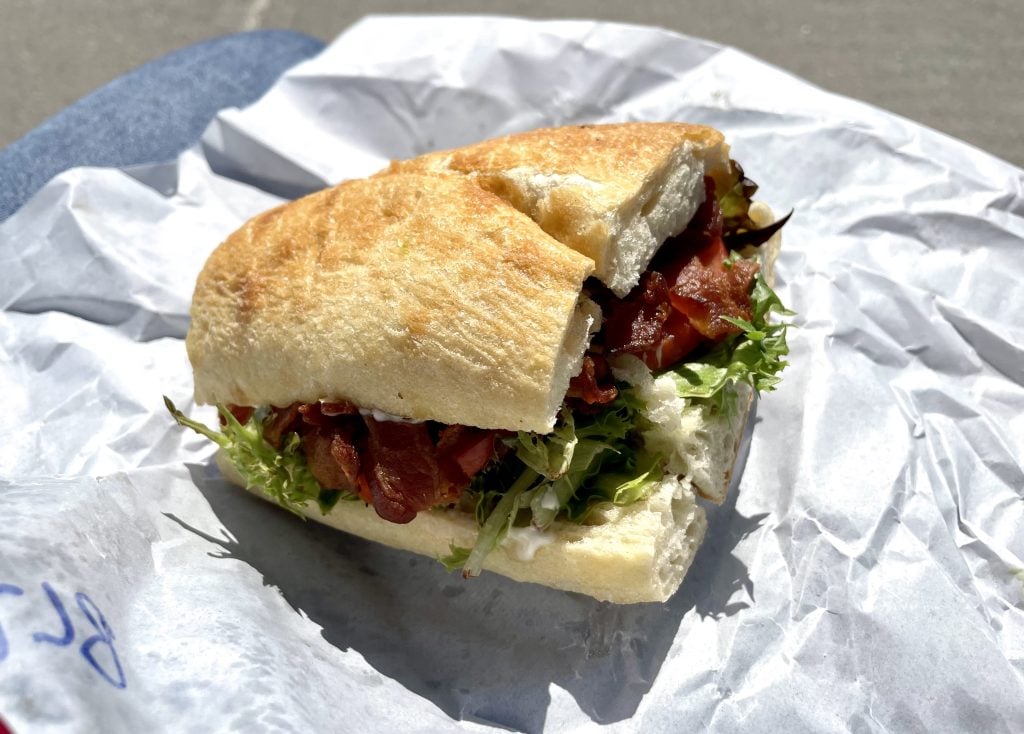 Restaurants in Vineyard Haven
Yes, there are plenty of great restaurants to eat in Vineyard Haven. Whether you're looking for something casual or more upscale, you've got a lot to choose from.
On the casual end: Waterside Market is a year-round market and cafe serving awesome sandwiches, including a BLT absolutely crammed with uncured nitrate-free bacon.
The Net Result, a seafood market and take-out restaurant, was another winner. Charlie LOVED his lobster roll topped with melted butter, and I loved my chowdah.
If you're looking for more formal dining: Garde East is one of the best waterfront restaurants on the island, dishing up fresh seafood, innovative dishes, and local Vineyard produce in an elegant setting. Salvatore's serves the best fine Italian cuisine on the island.
And if you're eager for an Obama sighting…head to Beach Road. It's his favorite restaurant on Martha's Vineyard.
Nobnocket Boutique Inn
I stayed at Nobnocket Boutique Inn in Vineyard Haven, who hosted me for three nights. What a fantastic inn! This is an upscale B&B that gets so much right.
Simon and Annabelle Hunton, originally from England, opened Nobnocket Boutique Inn in 2016. The inn is located in a quiet neighborhood in Vineyard Haven, about an eight-minute walk from Main Street. A large house sitting on an enormous piece of land, at first glance it feels like a mansion to which you're secretly giddy to have an invitation.
Then you get inside, and you're struck by the details. There is an intentionality to each room, from the elegant modern art to the airy layout, dotted with interesting furniture. Everything feels modern and very high quality, but not ostentatious.
I loved this bed and breakfast. LOVED it. Let's take a look at our room.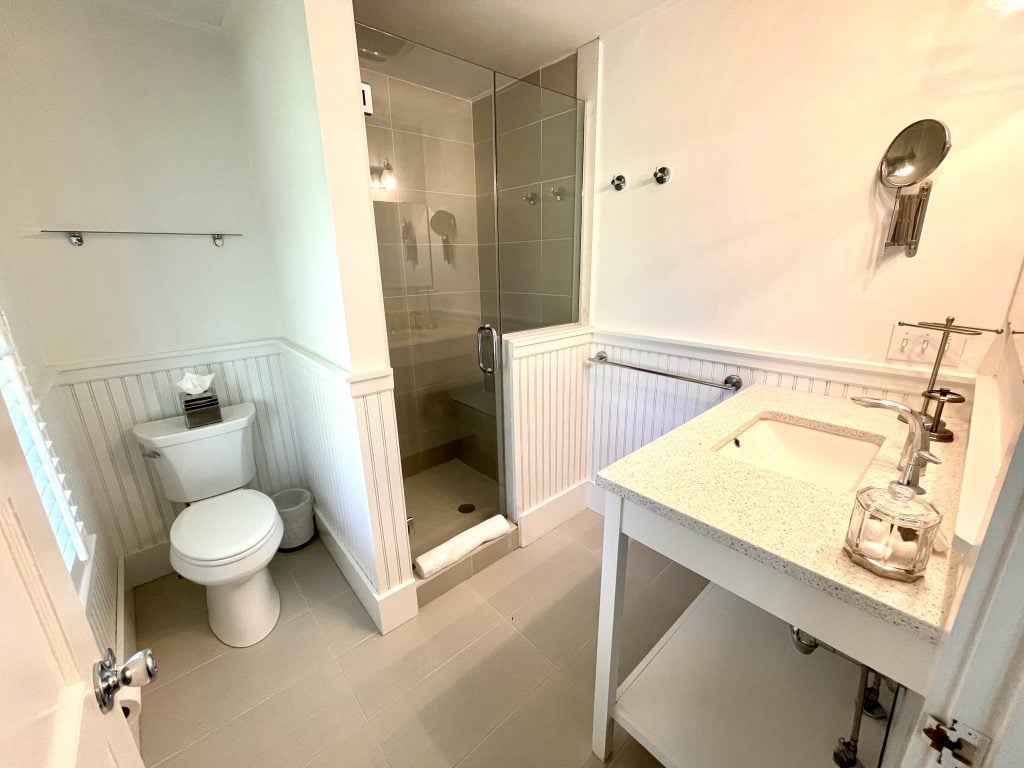 Our room featured a plush bed that was as comfortable as it was modern, topped with Frette linens. Little orange touches appeared around the room — just enough to keep it whimsical without going overboard.
I adored our sitting room, complete with a comfy couch and a dining table where we enjoyed our breakfast. The large windows flooded it with light all day.
I stay in a lot of properties for my work, which you all know, and what struck me the most about Nobnocket is how they have a modern, stylish aesthetic while still keeping a warm and inviting feeling to all of the rooms. (Someone please pass on that sensibility to Italy. Every hotel there's either ramshackle country or ice-cold 90s modern.)
Even walking into our bathroom was a treat. I mean, just look at that wainscoting. The large, square sink basin. Those are the kind of details that most innkeepers don't think about, but they made me so happy.
Clearly Simon and Annabelle invested wisely as they redesigned the inn.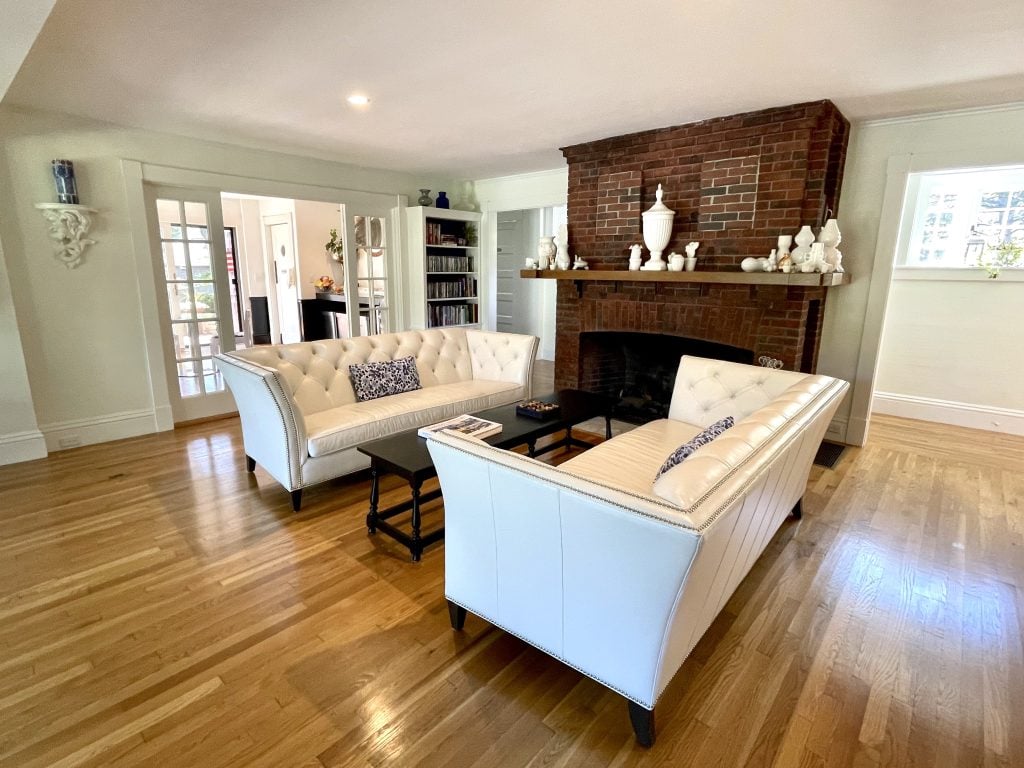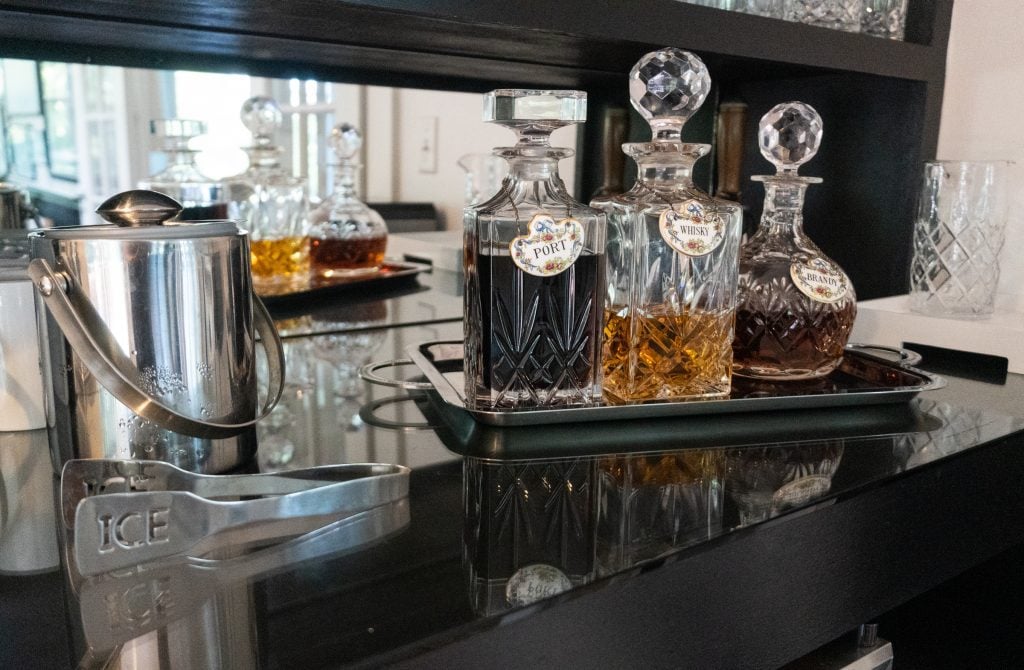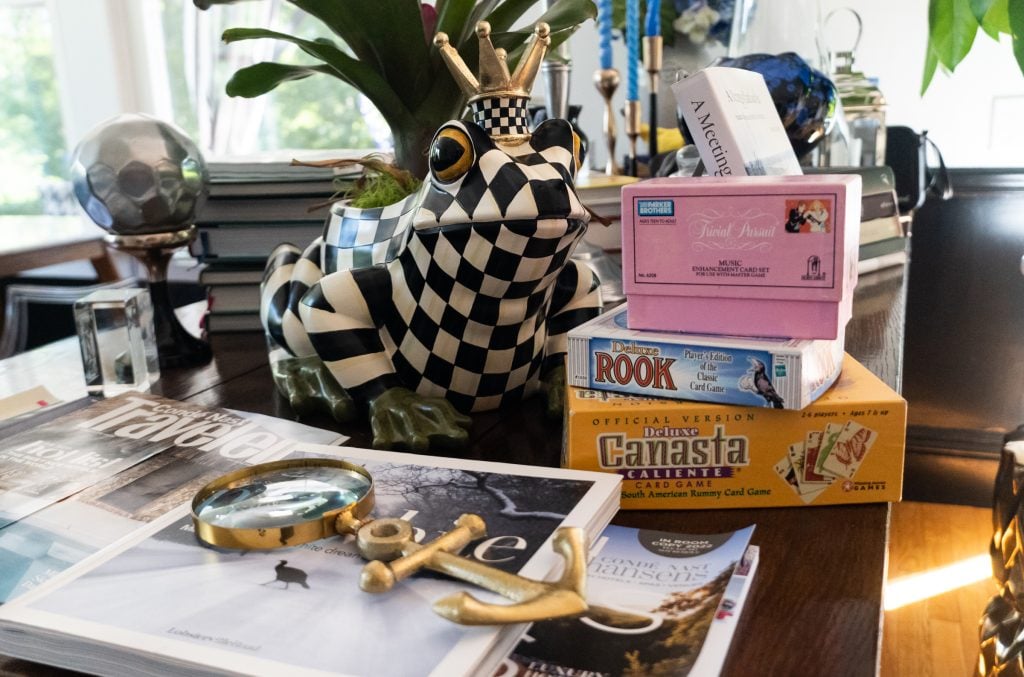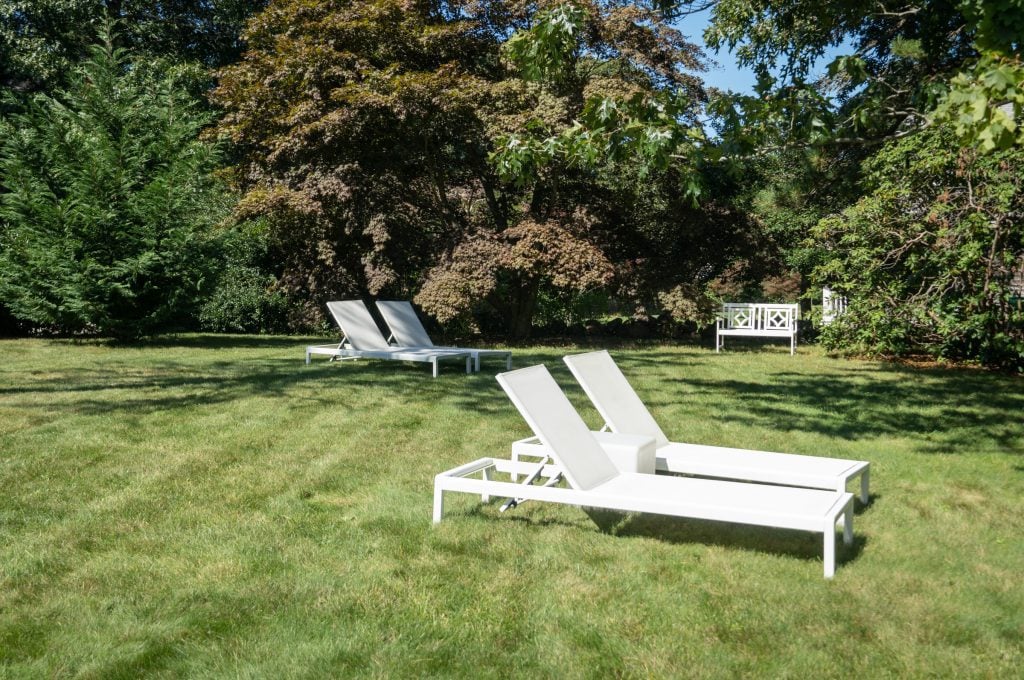 Secondly, the inn itself. Like many inns, they offer free coffee and tea 24 hours a day, and a selection of board games. But they up the ante with free port, whiskey, or brandy for your evening nightcap, and a selection of snacks on hand in case you get hungry.
That gallery wall above, with a combination of maps, vintage ads, and black and white photos, is giving me serious inspiration for my own apartment.
And then there's the back yard. It's a truly ridiculous amount of space, with plenty of room to dine outside, relax in a lounge chair, or even play a game of baseball if you really wanted to!
But the best part of all? BREAKFASTS. Breakfasts at Nobnocket Inn were on par with Australian breakfasts — each of them creative and delicious. I was excited for breakfast every morning!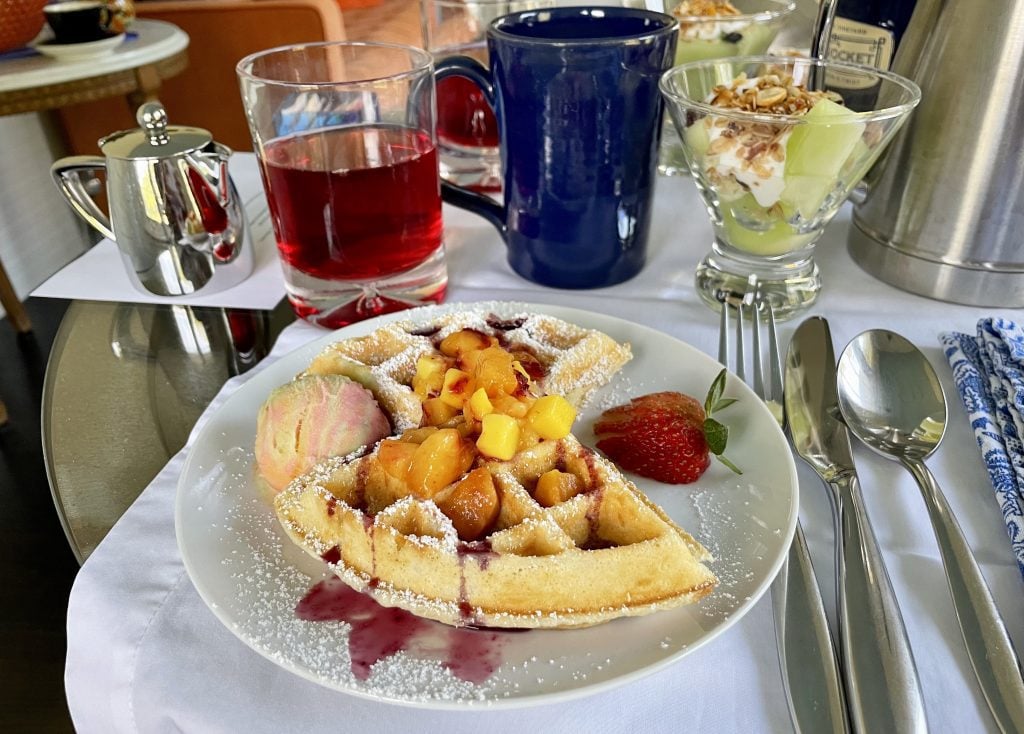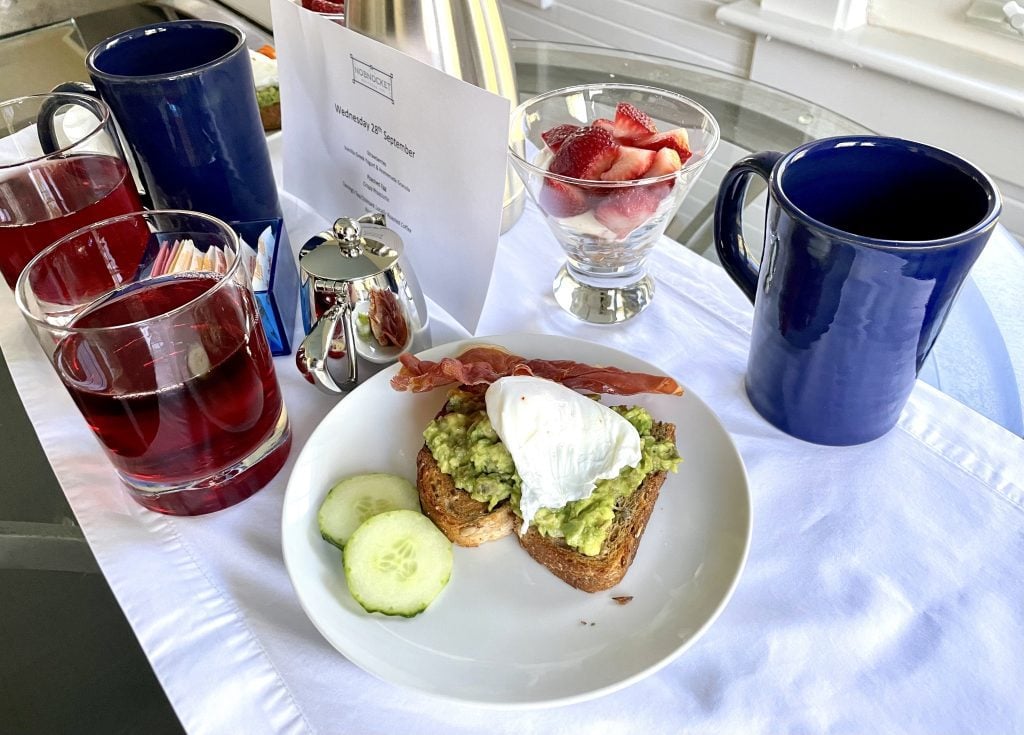 Oh, those breakfasts! Each morning, we started with a fruit and yogurt parfait that was different each day. Then we moved on to the main course: waffles with mango and sherbet, or avocado toast with poached egg and crispy pancetta, or bread pudding topped with berries.
Each breakfast was served with juice and locally roasted coffee from Chilmark Coffee Company.
And even better? TURNDOWN COOKIES.
The best part about coming back at night was getting to see fresh cookies on the bedside table. Chocolate chip or shortbread. And they were SO good.
Did I love my stay at Nobnocket Boutique Inn? Yes. Would I go back? In a heartbeat. It's my favorite place I stayed in 2022.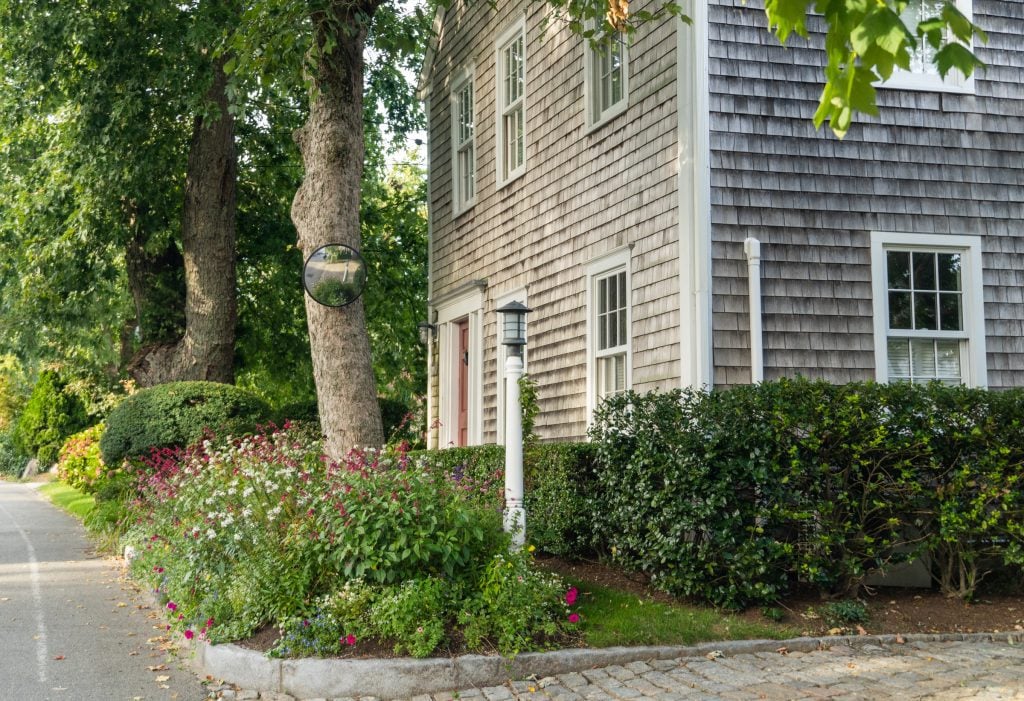 Best Time to Visit Vineyard Haven (and Martha's Vineyard)
Martha's Vineyard is a quintessential summer destination — but of course, summer brings crowds and high prices. You can avoid this by going slightly out of season.
We visited in late September, and I was shocked by how "over" the season was! Sure, there were still plenty of visitors, but we always got our food quickly, had a short wait for the tiny Chappy Ferry, and even had a few beaches to ourselves.
It was denim jacket weather most of the time, so a little too cold to swim, but it couldn't have been more pleasant.
But in terms of activities, Vineyard Haven welcomes the Beach Road Weekend festival the last weekend in August. Beck, Wilco, the Avett Brothers, and Jason Isbell headlined in 2022.
And from June through September, Vineyard Haven celebrates First Fridays — on the first Friday of the month, you can enjoy artists selling their wares up and down Main Street and live music in Owen Park.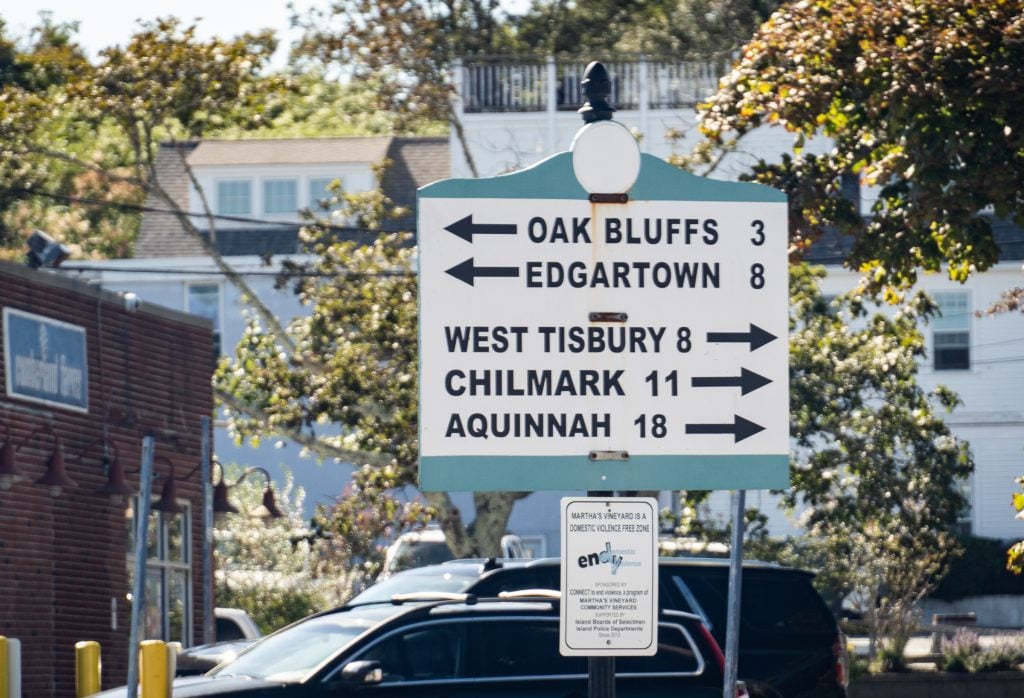 Getting Around Martha's Vineyard from Vineyard Haven
I was surprised at how easy it was to get around the Vineyard! Despite the largeness of the island on the map, the towns are easily connected to each other and the driving experience is incredibly pleasant, with smooth roads taking you through rural farmland.
From Vineyard Haven, it's a 10-minute drive to Oak Bluffs, 17-minute drive to Edgartown, 23-minute drive to Katama Beach (South Beach), and 33-minute drive to the Aquinnah Cliffs.
And if you don't have a car, you can easily get around by taking the buses or riding a bike. (Or a combination — buses have racks with space for two bikes on board.)
There are a few bike rental spots in Vineyard Haven, including All Star Martha's Vineyard Bike Rentals and Martha's Bike. Most of the island is relatively flat, though up-island areas past West Tisbury (Chilmark, Menemsha, Aquinnah) are much hillier.
To get to Vineyard Haven from the mainland, you can take the Steamship Authority car ferry from Woods Hole on Cape Cod. The ferry takes about 45 minutes. There is also ferry service to Vineyard Haven from New Bedford and Nantucket.
You can fly directly to Martha's Vineyard from several airports in the Northeast US, including Boston, Washington, and New York.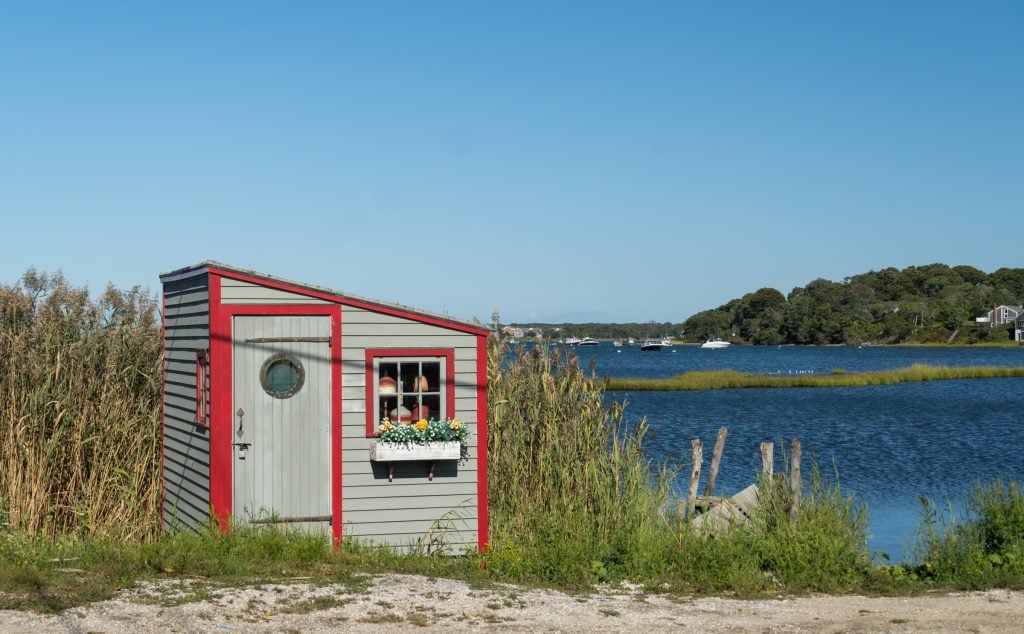 Is Vineyard Haven worth it?
Vineyard Haven is most definitely worth it! Honestly, I'm perplexed that so many people only see it as a place where you get the ferry! It's such a nice town.
I'm so glad we got to spend extra time here and dive in to what makes this place special. I hope it's special for you, too.
More on Cape Cod and the Islands:
Which of the Towns of Cape Cod is Best for You?
24 Fab Things to Do in Cape Cod
22 Fabulous Things to Do in Provincetown, MA
More on Massachusetts: 
25 Historic, Spooky Things To Do in Salem, MA
27 Fun Things to Do in Rockport, MA
24 Cool Things To Do in Cambridge, MA
33 Best Things to Do in the Berkshires, MA
Best Towns in the Berkshires, MA
Best of Boston:
Where to Stay in Boston: Hotels, Neighborhoods & More!
40+ Fun Things To Do In Boston At Night
Best Time to Visit Boston
What NOT to Do in Boston
The Best Museums in Boston
Have you been to Vineyard Haven? Any recommendations?
The post A Visitor's Guide to Vineyard Haven, Massachusetts appeared first on Adventurous Kate.
A Visitor's Guide to Vineyard Haven, Massachusetts
❤Shy Paris Entertainment ||||| International Spectacular Events, Stellar Event Planning and Management, & Celebrity Booking Agency. Please contact us as we can provide you with both international and/or local renowned full service event planning and management, & celebrity bookings at shyparisentertainment@gmail.com or
CONTACT: Email: shyparisentertainment@gmail.com
Facebook: ShyParis Youtube: @Shyparis Twitter: @Shyparisent Instagram: shyparisentertainment Whatsapp: 1-437-259-3399
✶✶✶✶✶✶✶✶✶✶✶✶✶✶✶✶✶✶✶✶✶✶✶✶✶✶✶✶✶✶✶✶✶✶✶✶✶✶✶✶✶✶✶✶✶✶✶✶✶✶
SHY PARIS ENTERTAINMENT COMPANIES
✅ ShyParisentertainment.co – https://shyparisentertainment.co
✅ Shyparisbookings.com – https://shyparisbookings.com
✅ Linkzradio.com – https://linkzradio.com
✅ Klublinks.com – https://klublinks.com
✅ Shypariswebdesign.com – https://shypariswebdesign.com
✅ ❤️ Shyparis – htttps://shyparis.com❤️