Roasted Brussels Sprouts with Apples & Pecans Recipe
If you haven't fallen in love with Brussels sprouts yet, then this is the recipe for you. Dressed up and humble at the same time, these roasted Brussels sprouts with apples and pecans will have you wondering why you ever avoided (or maybe despised!) the tiny green cabbage.
While roasting or steaming Brussels sprouts and then adding a little butter can always work, the flavor goes up several notches when you add the below ingredients. This side dish is especially appropriate come holiday time, as it will make itself known at the table and can even satisfy a vegetarian as the primary dish because it's a perfectly balanced macronutrient (carbs, fat and protein) meal.
Key Ingredients
The reason your mother or grandmother wanted you to eat nutrition-rich Brussels sprouts is because they are packed with antioxidants, vitamins (K, C and A are tops), minerals, fiber, omega-3s and a good amount of protein for a vegetable. Regularly eating just a one-cup serving of the cruciferous veggie can help lower your risk of cancer, strengthen your bones, protect skin and eye health, aid digestion, fight inflammation, lower glucose and cholesterol … need I go on?
This roasted Brussels sprouts recipe adds even more vitamins and fiber with apple and the healthy fats of pecans and ghee. The lemon zest, thyme and shallots don't just bump up the flavor either — they provide more vitamins and minerals to help aid the immune system and benefit the whole body.
While Brussels sprouts, apples and pecans are at their peak in the fall and winter, they're available year-round, so try this recipe for a holiday gathering next to other great side dishes like sweet potato casserole or green bean casserole. It's also great as a simple weeknight meal paired with my seared grass-fed steak. Now let's get started on this oven roasted Brussels sprouts recipe.
How to Make Roasted Brussels Sprouts
You may be wondering: How do I roast Brussels sprouts? Should you cut Brussels sprouts in half before roasting? Do you have to steam Brussels sprouts before roasting?
We have you covered.
Begin by heating the oven to 350 degrees Fahrenheit and grabbing a 13 x 9-inch baking dish. That's the only dish you'll need for this recipe!
Add two pounds of trimmed (cutting off the stems without taking too much of the nutritious sprout) and halved Brussels sprouts to the dish. (We're making enough for a crowd, but you could easily half this recipe for fewer people.)
Throw in two minced shallots and some sea salt and freshly ground pepper. Mix these around so all the veggies get some seasoning.
Next, pour in about a cup of white wine. If you want to avoid using wine, you could use chicken broth, but the wine is going to enhance the sweetness of the roasted Brussels sprouts and help them caramelize a bit.
Next top the sprouts with spoonfuls of ghee, making sure all areas of the dish have some ghee. Now pop the dish in the oven for 30 minutes.
The Brussels sprouts are going to get a little browned and steamed in the wine and ghee.
Take the dish out of the oven, and add the zest of one lemon, one diced sweet apple (such as Braeburn or Fuji), one cup pecan pieces and one teaspoon of chopped fresh thyme.
You can also add a half-cup grated Zamorano or Pecorino Romano cheese if you'd like. Zamorano is a mild, tasty cheese made from raw sheep milk, which has similar benefits as raw goat milk products. Pecorino is a hard, salty Italian cheese also made from sheep milk.
Stir gently to combine — then it's back to the oven for 15 to 20 minutes, just until the Brussels sprouts and apple pieces are tender.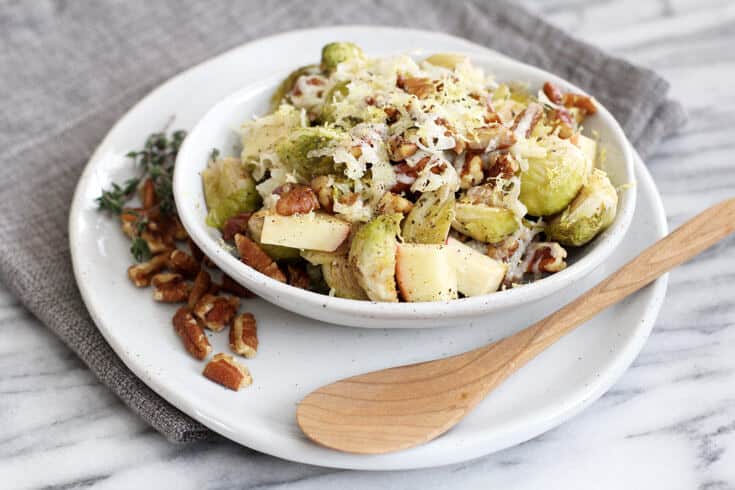 Serve up these roasted Brussels sprouts while they're warm, and enjoy the sweet, nutty, tangy and buttery flavor. I love this dish with turkey or beef, but it also makes a filling veggie meal on its own and is great reheated.
It's proof that not only are Brussels sprouts incredibly good for you, but they can taste incredible, too.
Print
Roasted Brussels Sprouts Recipe
---

Author:

Total Time:

1 hour


Yield:

8


Diet:

Gluten Free
Description
Roasted Brussels sprouts with apples and pecans will have you wondering why you ever avoided (or maybe despised!) the tiny green cabbage. Make at holiday time to wow guests … or any cold weather time of year.
---
2

pounds Brussels sprouts, washed, trimmed and halved

2

medium shallots, minced
sea salt and freshly ground pepper, to taste

1 cup

white wine

¼ cup

ghee
zest of

1

lemon

1

sweet apple, cored and diced

1 cup

pecan pieces

1 teaspoon

chopped fresh thyme, or

⅓ teaspoon

dried

½ cup

grated Zamorano or Pecorino Romano cheese (optional)
---
Instructions
Heat the oven to 350 F.
In a 13 x 9-inch baking dish, combine the Brussels sprouts, shallots, salt and pepper and mix together.
Pour the white wine into the dish and place spoonfuls of ghee on top of the sprouts, making sure all areas of the dish have ghee.
Bake uncovered for 30 minutes. Remove from the oven and add the lemon zest, apples, pecans, thyme and (if using) Zamorano. Stir to combine.
Return the dish to the oven for 15–20 minutes, or until sprouts and apple pieces are tender.
Notes
You can use chicken or vegetable broth in place of white wine if you prefer.
The cheese is optional, and if you can't find Zamorano or Pecorino Romano in the stores, you can use another healthy cheese, such as goat cheese.
Prep Time:

10 min

Cook Time:

50 min

Category:

Side Dishes

Method:

Oven

Cuisine:

American
Nutrition
Serving Size:

1 cup (191g)

Calories:

225

Sugar:

6.1g

Sodium:

177mg

Fat:

15.1g

Saturated Fat:

4.5g

Unsaturated Fat:

9.7g

Trans Fat:

0.2g

Carbohydrates:

16.6g

Fiber:

6.2g

Protein:

5.2g

Cholesterol:

15mg
Keywords: oven roasted brussels sprouts, roasted brussels sprouts recipe, roasted brussel sprouts recipe
The post Roasted Brussels Sprouts with Apples & Pecans Recipe appeared first on Dr. Axe.
Roasted Brussels Sprouts with Apples & Pecans Recipe
❤Shy Paris Entertainment ||||| International Spectacular Events, Stellar Event Planning and Management, & Celebrity Booking Agency. Please contact us as we can provide you with both international and/or local renowned full service event planning and management, & celebrity bookings at shyparisentertainment@gmail.com or
CONTACT: Email: shyparisentertainment@gmail.com
Facebook: ShyParis Youtube: @Shyparis Twitter: @Shyparisent Instagram: shyparisentertainment Whatsapp: 1-437-259-3399
✶✶✶✶✶✶✶✶✶✶✶✶✶✶✶✶✶✶✶✶✶✶✶✶✶✶✶✶✶✶✶✶✶✶✶✶✶✶✶✶✶✶✶✶✶✶✶✶✶✶
SHY PARIS ENTERTAINMENT COMPANIES
✅ ShyParisentertainment.co – https://shyparisentertainment.co
✅ Shyparisbookings.com – https://shyparisbookings.com
✅ Linkzradio.com – https://linkzradio.com
✅ Klublinks.com – https://klublinks.com
✅ Shypariswebdesign.com – https://shypariswebdesign.com
✅ ❤️ Shyparis – htttps://shyparis.com❤️